600W CO2 Laser Cutting System for Airbag Production
Features
Collocation
Tech Specs
Models
Material & Application
Solution
Request
Laser Cutting System for Airbag Production

→ GOLDEN LASER JMC SERIES → High Precision, Fast, Highly Automated
Model No.: JMC-230230LD / 300300LD
AIRBAG
INDUSTRY INTRODUCTION
The automotive industry in Europe and the United State developed countries, 50%-70% of the auto parts are laser processing, mainly for laser welding and laser cutting. With the simultaneous increase of car sales and airbag deployment rate, the future development of the airbag market in China is worth looking forward to.
TRADITIONAL PROCESSING VS. LASER CUTTING
LASER CUTTING ADVANTAGE
Ø SAVE LABOR
Multi-layer cutting, can cut 10~20 layers at a time, saves 80% on labor compared to single-layer cutting.
Ø SHORTEN THE PROCESS
Digital operation, design and technology integration, no need plate making or mould. After laser cutting, the fabrics can be sewn directly, without any after-finishing.
Ø HIGH QUALITY, HIGH YIELD
Laser cutting is thermal cutting, cutting edge neat, non-burr, precision, no limited by graphics, the yield up to 99.8%
Ø HIGH EFFICIENCY, HIGH PRODUCTIVITY
Integration of the world's advanced technology, standardized production, the whole operation of safe, stable and reliable. One person a machine eight hours a day, the output reached 1200 sets.
Ø SAFE AND ENVIRONMENTAL PROTECTION, LOW OPERATING COSTS
Maintenance-free of core components, no additional supplies, only about 6kwh per hour electricity costs.
Four Reason to Choose GOLDENLASER JMC SERIES Laser Cutter
1. Precision tension feeding
No tension feeder will easy to distort the variant in the feeding process, resulting the ordinary correction function multiplier; Tension feeder in a comprehensive fixed on both sides of the material at the same time, with automatically pull the cloth delivery by roller, all process with tension, it will be perfect correction and feeding precision.
2. High-speed cutting
Rack and pinion motion system equipped with high-power laser, reach to 1200 mm/s cutting speed, 8000 mm/s2 acceleration speed.
3. Automatic sorting system
Fully automatic sorting system. Make the material feeding, cutting, sorting at one time
4. Customizing the size of the high-precision laser cutting bed
2300mm×2300mm (90.5 inch×90.5 inch), 2500mm×3000mm(98.4 inch×118 inch), 3000mm×3000mm (118 inch×118 inch), Or optional

JMC SERIES HIGH SPEED HIGH PRECISION LASER CUTTER IN DETAILS
High precision rack and pinion motion system
▎Cutting speed up to 1200m/s, the ACC up to 10000mm/s2, maintain long-term stability.
World-class CO2 laser source
▎World-class CO2 metal RF laser, stable and durable
Vacuum absorbing honeycomb conveyor working table
▎Flat, automatic, low reflectivity from laser
Customized control system
▎Independent intellectual property rights. Customized control system for industrial textiles.
Japanese YASKAWA servo motor
▎High precision, stable speed, overload ability
Automatic feeder
▎Tension correction. Linkage with the laser cutter to achieve continuous feeding and cutting

CO2 Laser Cutting System for Airbag Production
RECOMMENDED MODELS: JMC-230230LD / 300300LD
TECHNICAL PARAMETERS
LASER TYPE
hermetic and detached CO2 laser tube
LASER POWER
125W / 275W / 600W RF tube
CUTTING AREA
2300mm×2300mm / 3000mm×3000mm
LENSES
2.5″, 3″, 4″ etc.
CUTTING TABLE
Absorbing conveyor working table
CUTTING SPEED
0~1200mm/s   ACC: 8000mm/s2
REPEATING LOCATION
≦0.05mm
MOTION SYSTEM
offline mode Servo motor moving system,high precision gear rack transmission
POWER SUPPLY
AC220V±5%/50Hz
FORMAT SUPPORT
AI, BMP, PLT, DXF, DST
CERTISFICATION
ROHS, CE, FDA
STANDARD COLLOCATION
3 sets 3000W exhaust fans, mini air compressor
OPTIONAL COLLOCATION
Auto feeding system, red light position, marker pen, 3D Galvo, double heads

***

 Note: As products are constantly updated, please contact us for the latest specifications. 

***
JMC SERIES LASER CUTTING MACHINE RECOMMENDED MODELS
→ JMC-230230LD. Working Area 2300mmX2300mm (90.5 inch×90.5 inch) Laser Power: 150W / 275W / 600W CO2 RF Laser
→ JMC-250300LD. Working Area 2500mm×3000mm (98.4 inch×118 inch) Laser Power: 150W / 275W / 600W CO2 RF Laser
→ JMC-300300LD. Working Area 3000mmX3000mm (118 inch×118 inch) Laser Power: 150W / 275W / 600W CO2 RF Laser
… …

Automated Laser Cutting Solutions for Airbag
PROCESSING EFFICIENCY, TEST REPORT, COST ACCOUTING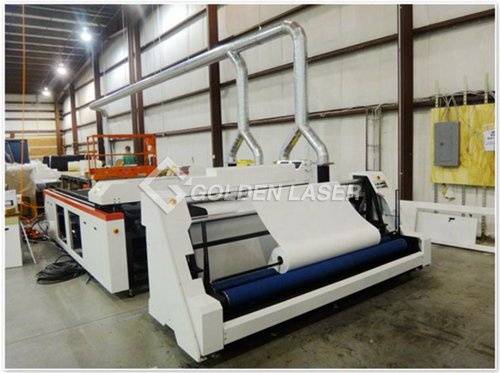 Laser cutting system uses 600 watts CO2 RF laser for the laser source, cutting 20 layers each time.
One-site use of laser cutting equipment display instructions show that the format within a single layout 3 sets, the use of fabric of width 2580mm, cutting time about 12 minutes.
ACCORDING TO THE DATA
• A single set of laser cutter equipment cut 60 sets of airbags every 12 minutes (20layers ×3 sets)
• About 360 sets per hour (60 sets× 60/12)
• According to the daily 8 working hours can be cut 2400 sets
• Only one person operation
• Equipment supplies only 6kwh per hour.