Auto Feeding CO2 Laser Cutter Machine for Textile Upholstery
Features
Collocation
Tech Specs
Models
Material & Application
Solution
Request
CO2 Laser Cutting Machine for Fabric Upholstery CJG-250300LD
1. Open-type laser cutting bed with wide format. Working area 2500mmX3000mm
(Optional working areas: 1600X3000mm, 2100X3000mm, 3200X5000mm, 3200mmX8000mm, etc.)
2. Conveyor working table with auto-feeding system (optional). High speed continuous cutting textile fabrics and wide area flexible materials.
3. The cutting system can do extra-long nesting and full format continuous auto-feeding and cutting on a single pattern that exceeds the cutting area of the machine.
4. Smart nesting software is optional, it can fast layout cutting graphics in the most material-saving way.
5. 5-inch LCD screen CNC system supports multiple data transmission and can run in offline or online modes.
6. Following top exhausting suction system to synchronize laser head and exhaust system. Good suction effects, saving energy.
7. CCD camera recognition system (optional) realizes automatic contour capturing on the graphic of fabrics.
8. You can print to the laser from a variety of programs, including CorelDraw, AutoCAD and Adobe software.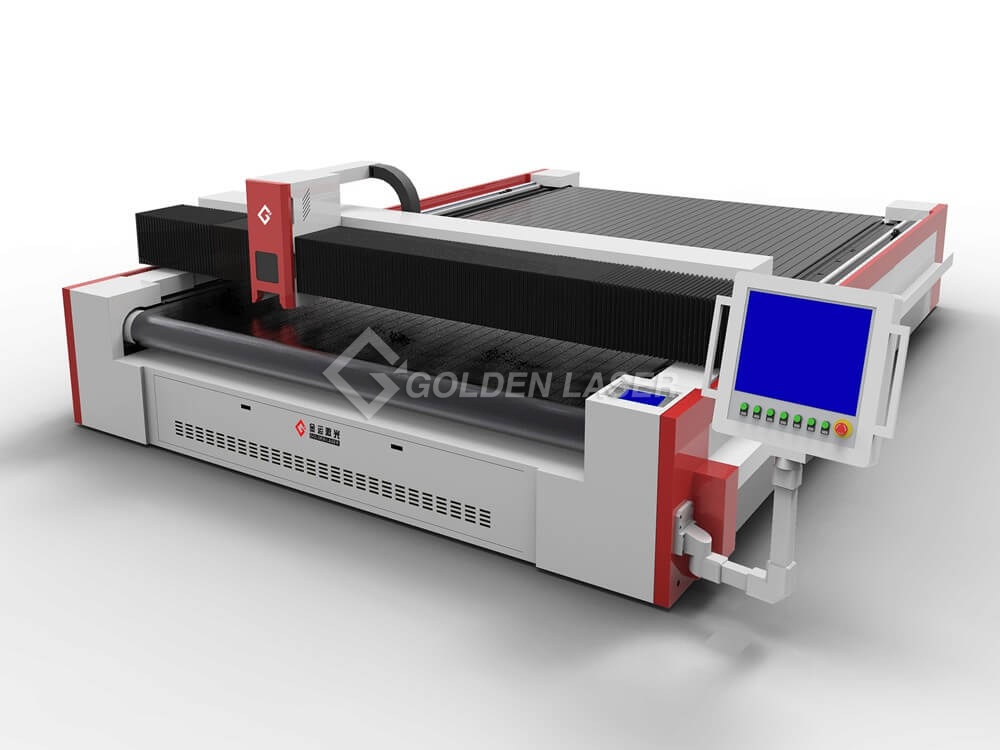 CO2 Flatbed Laser Cutting Machine Optional Configuration
| | |
| --- | --- |
| Auto Feeding System (multiply types) | CO2 RF metal laser tube (different powers optional) |
| Large Area Recognition System | Projection System |
| Red light positioning | Smart nesting |
| Pattern digitizing steel frame | Recognition, Pattern digitizing steel frame |
Technical Parameter
Laser Tube
CO2 RF metal laser tube
Laser Power
150W
Working Area
2500mmX3000mm
Working Table
Conveyor working table
No-load Max Speed
0-30000mm/min
Repeating Location Accuracy
±0.5mm
Motion System
Offline Servo motion control system, 5 inches LCD display
Cooling System
Constant temperature water chiller
Power Supply
AC 220V±5% /50Hz
Format Support
AI, BMP, PLT, DXF, DST, etc.
Standard Collocation
1 set 550W upper exhaust fan, 2 sets 3000W nether exhaust fans, Mini air compressor
Optional Collocation
80W, 100W CO2 glass laser tube, 100W CO2 RF metal laser tube, Auto-feeding system, Auto-recognition system

***

Working size and laser power can be customized as your requirement.

***
GOLDEN LASER Uranus Series CO2 Laser Cutting Bed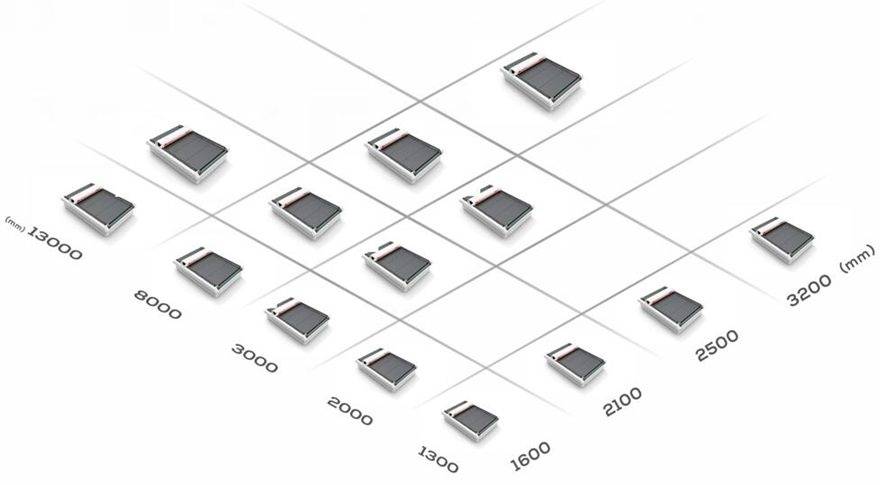 WORKING AREAS CAN BE CUSTOMIZED
© CJG-250300LD Textile Fabric Laser Cutting Bed
© CJGS-160300LD Garment Fabrics High-Speed Laser Cutting Bed
© CJGV-160200LD Vision Laser Cutting Machine for Sublimation Fabric,  Banners, Flags
© CJGV-160130LD Vision Laser Cutting Machine for Sublimated Sportswear
© CJG-160250LD Genuine Leather Laser Cutting Machine
© CJG-250400LD Industrial Fabrics Laser Cutting Bed
© CJG-320800LD Large Format Laser Cutting Bed for Outdoor Products
© CJG-210300LD Carpet Laser Cutting Bed
© CJG-180300LD Automotive Interior Laser Cutting Bed
Applicable Materials and Industries
GOLDEN LASER Cutter can be used for quick and easy cutting of diverse textiles and fabrics.
LASER CUT TEXTILES AND FABRICS INCLUDES AND NOT LIMITED TO
Polyester, Cotton, Silk, Nylon, Lycra, Aramid, Lace, Leather and Leatherette, Faux Fur, Fleece, Mesh fabrics, Suede, Fibers, Fibreglass cloth, Neoprene, Felt Natural and Felt Synthetic, Suede Leather, Rubber and Rubberised Textiles, Synthetic Textiles, Technical Textiles
Applicable to garment, textile upholstery, furniture fabric, sofa, curtain, mattress, quilts, industrial fabrics, etc.
Sample Photos
Golden Laser Cutting Solution for Textile, Fabric, Flexible Material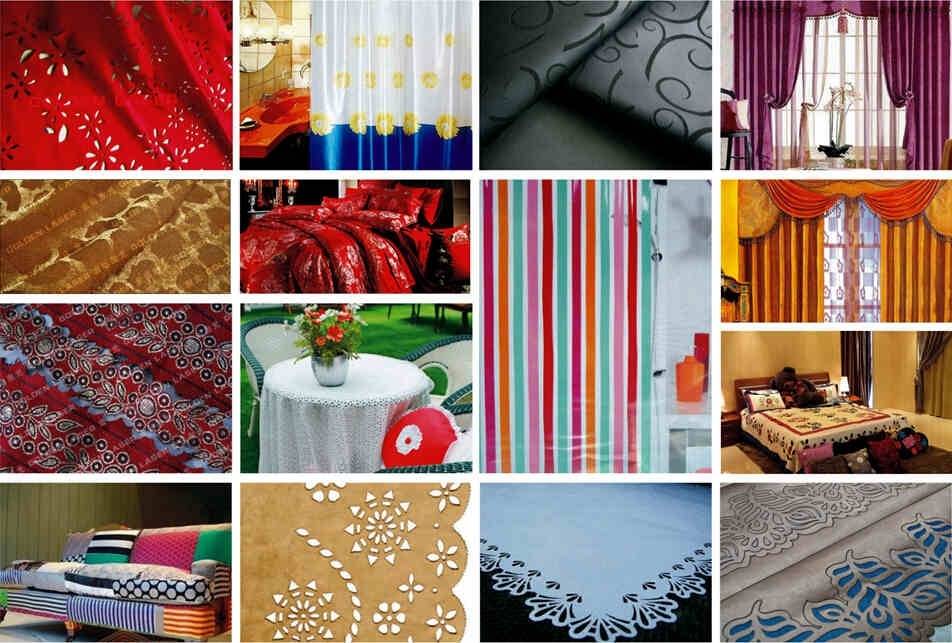 As a pioneer of flexible material laser applications, GOLDEN LASER has 10 years of laser cutting beds development history, a number of products are the industry's first.
At present, GOLDEN LASER has developed four series of laser cutting beds, covering synchronous belt, galvanometer, double Y-axis and gear rack with more than 30 machine models.
Golden Laser industry-leading mechanical design, optical design and control design, ensuring high speed and high stability of the cutting bed performance.
Various forms of professional cutting tables, such as vacuum conveyor working table and thickened zinc-iron honeycomb working table.
For the cutting format, Golden Laser standard cutting bed covers 1800X1000mm, 1600X3000mm, 2100X3000mm, 2500X3000mm, 3200X5000mm, 3200X8000mm, 4000X3000mm, that can effectively meet the processing requirements of various industries and specifications. And we can provide customers with a variety of custom cutting formats to fit their production needs.
Our machines can be equipped with 80W, 130W, 150W, 200W, 300W, 400W, 500W and other power lasers, according to industry and user needs.
<< Read More about Textile Fabric Laser Cutting Solution