Factory For Bridge Laser Embroidery Machine for Adelaide Factories
Features
Collocation
Tech Specs
Models
Material & Application
Solution
Request
, , ,
---
Factory For Bridge Laser Embroidery Machine for Adelaide Factories Detail:



Bridge Laser Embroidery Machine QJDT-800-5

Laser Bridge can be provided separately. All-cantilever beam structure, stable and safe. Length of embroidery machine is unlimited. You can place any length embroidery machine under the bridge. (embroidery machines can be replaced). Standard collocation is 40m length. Generally recommendation is placing 3 to 4 sets of embroidery machine. Length can also be customized according to the customer's requirement.

Golden Laser – the fifth generation of Laser Bridge Embroidery
Wider applicability: Embroidery machine length unrestricted. Total length within the range of equipment, customers can arbitrarily placed embroidery machine. And can place board machine, table, or other operating platforms. Function can be expanded, broader applicability.
Better stability: All imports of drive systems, to ensure the stability of equipment operation and precision cutting.
Higher safely: Upgrade to the latest security protection system that automatically senses and stop the movement, to ensure long life equipment. New soft protective wall, production safety guaranteed.
More cost-effective: You can select the most suitable configuration according to the application needs of the industry and the actual production. Also can be customized the best processing platform. Compared to foreign manufacturers to configure the device, Golden Laser Bridge can save 20% to 30% of the funds, best choice for embroidery processing enterprises who is seeking to upgrade.
Equipping more flexible: Overall structure and core components using modular assembly, easy and quick installation, significantly shorten the delivery cycle.
Bridge Laser Embroidery Machine Live-Action in Customers Factories
---
Product detail pictures: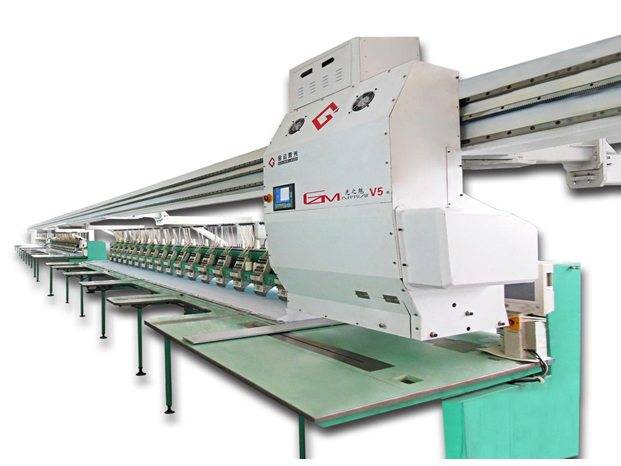 ---
Factory For Bridge Laser Embroidery Machine for Adelaide Factories, The product will supply to all over the world, such as: , , ,