Filtration Industry Introduction
Filtration as an important environmental and safety control process, from industrial gas-solid separation, gas-liquid separation, solid-liquid separation, solid-solid separation, to air purification and water purification in daily household appliances, filtration has been increasingly widely applied to multiple areas. Specific applications such as power plants, steel mills, cement plants and other waste discharge treatment, textile and garment industry air filtration, sewage treatment, chemical industry filtration crystallization, automotive industry air, oil filtration and household air conditioning, vacuum cleaner air filtration, etc.
At present, the filter materials are mainly fiber materials, woven fabrics and metal materials, especially fiber materials are most widely used, mainly cotton, wool, linen, silk, viscose fiber, polypropylene, nylon, polyester, acrylic, nitrile and other synthetic fibers, as well as glass fiber, ceramic fiber, metal fiber, etc.
As the application field of filtration continues to expand, the filtering materials are constantly being updated. The filtration products are from dustproof cloth, dust bag, filter screen, filter cartridge, filter barrels, filter cotton to filter core.
LASER CUTTING Filter Cloth
Large format CO2 laser cutting machine is ideal for cutting filtration medium thanks to the non-contact process and high precision achieved by the laser beam. In addition, the thermal laser process ensures the cutting edges are automatically sealed when cutting technical textiles. Since the laser cut filter cloth does not fray, subsequent processing becomes easier.
What are the advantages of cutting filter cloth with laser?
Laser cutting has become a trend for filter industry
Filter materials require increasingly finer holes. Especially in micro-hole processing, traditional processing methods are difficult to meet the established requirements. The laser can punch holes for the filter material in various specifications and various patterns.
Applications of our customers in filter industry
• Dust collection bags / Filtration press cloth / Industrial filtration belts / Filter cartridge / Filter paper / Mesh fabric
• Air Filtration / Fluidization / Liquid filtration / Technical fabrics
• Drying / Dust Filtration / Screening / Solid filtration
• Water filtration / Food filtration / Industrial filtration
• Mining filtration / Oil and gas filtration / Pulp and paper filtration
• Textile air dispersion products
Filter materials suitable for laser cutting
Filter fabric, glass fiber, non-woven fabric, paper, foam, cotton, polypropylene, polyester, polyamides, nylon, PTFE, sox duct and other industrial fabrics.
We recommend the Flatbed CO2 laser machines for cutting filter cloth
High speed, high precision and highly automated.
Rack and pinion & double Servo drive motion system. Higher efficiency and stability.
Read More
Economic model of CO2 flat bed laser system with belt transmission system.
CO2 laser cutting machine for large-format flexible material.
Read More
GOLDEN LASER JMC Series High Speed High Precision CO2 FLAT BED Laser Cutter in Details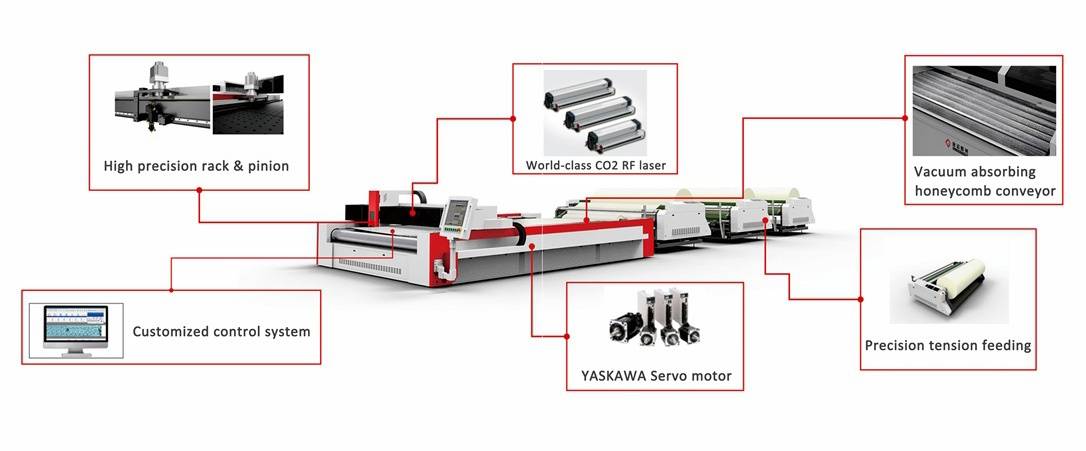 to Choose GOLDEN LASER JMC SERIES CO2 Laser Cutting Machine

1.

Precision tension feeding
No tension feeder will easy to distort the variant in the feeding process, resulting the ordinary correction function multiplier; Tension feeder in a comprehensive fixed on both sides of the material at the same time, with automatically pull the cloth delivery by roller, all process with tension, it will be perfect correction and feeding precision.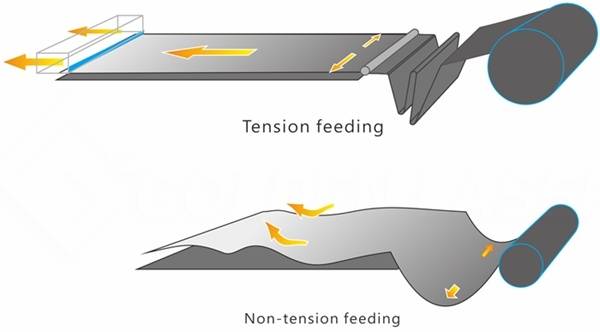 2.

High-speed cutting
Rack and pinion motion system equipped with high-power laser tube, reaches to 1200 mm/s cutting speed, 8000 mm/s2 acceleration speed.

3.

Automatic sorting system
Fully automatic sorting system. Material feeding, cutting, sorting at one time.

4.

Working areas can be customized
2300mm×2300mm (90.5 inch×90.5 inch), 2500mm×3000mm (98.4in×118in), 3000mm×3000mm (118in×118in), Or optional. The largest working area is up to 3200mm×12000mm (126in×472.4in)

Watch laser cutting machine for filter cloth in action!
We have a complete laser processing technology, including laser cutting, laser engraving, laser perforating and laser marking. We have a huge amount of laser process data accumulation. We can testing your materials with our laser machines, and optimize the process flow. Samples testing video, processing parameters and other related information are provided free of charge.
We have been customer-oriented, deeply exploring the needs of the industry, providing digital laser application solutions, promoting the transformation and upgrading of traditional industries, and helping users to innovate and develop. GOLDEN LASER is involved in many application fields, and a number of solutions are at the leading level in the industry.