Vision Laser Cutting for Sublimation Apparel Industry
High speed Flying scan a sublimated roll of fabric and take into account any shrinkage or distortion that may occur during the sublimation process and accurately cut out any designs.
Dye-sublimation Trend is Driving Fashion, Fitness and Sports Clothing Industry.
Apparel and accessories that are fashion-forward, on-trend while at the same time comfortable and functional has always been pursued. Sublimated clothing provides all that and more.
The demand for unique personality and fashion sense in the clothing industry has greatly contributed in the popularity of sublimation clothing. Not only the fashion industry but even the activewear, fitness clothing and sports apparel as well as uniforms industries has taken great liking for this novel dye-sublimation printing technique since it provides vast opportunities for customization with practically no design limitations.
Laser cutting of dye-sublimation prints
Laser cutting is the most popular cutting solution for sportswear industry. As a leading laser supplier for textile industry, Golden Laser launched the high speed vision laser cutting system for top speed cutting sublimation fabrics in rolls automatically. With continuous innovation, Golden Laser always focuses on creating the maximum value for our customers.
Typical laser application for sublimation sportswear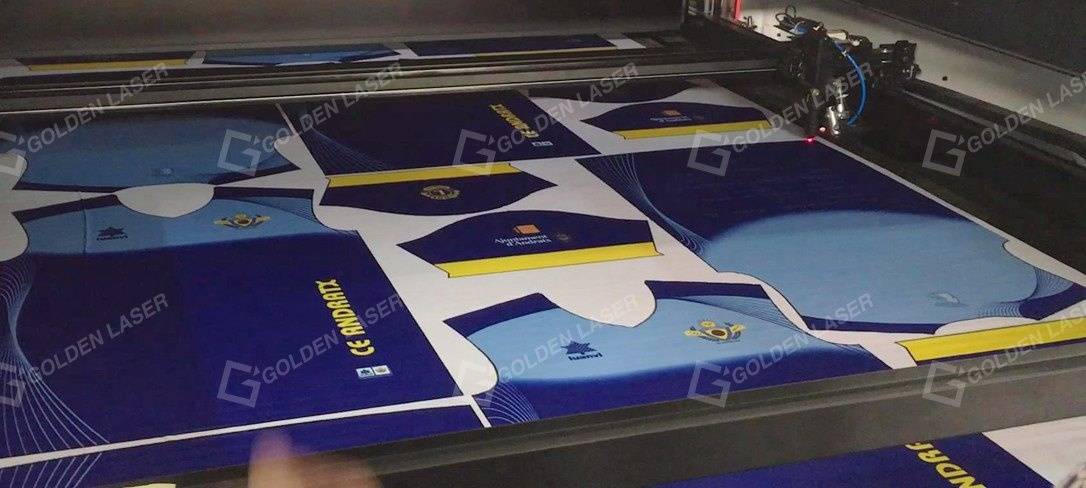 Laser cutting of sublimation printed sportswear
The VISION LASER CUT system automates the process of cutting out dye sublimation printed pieces of fabric or textile quickly and accurately, compensating for any distortions and stretches that occur in unstable or stretchy textiles like the ones used in sportswear.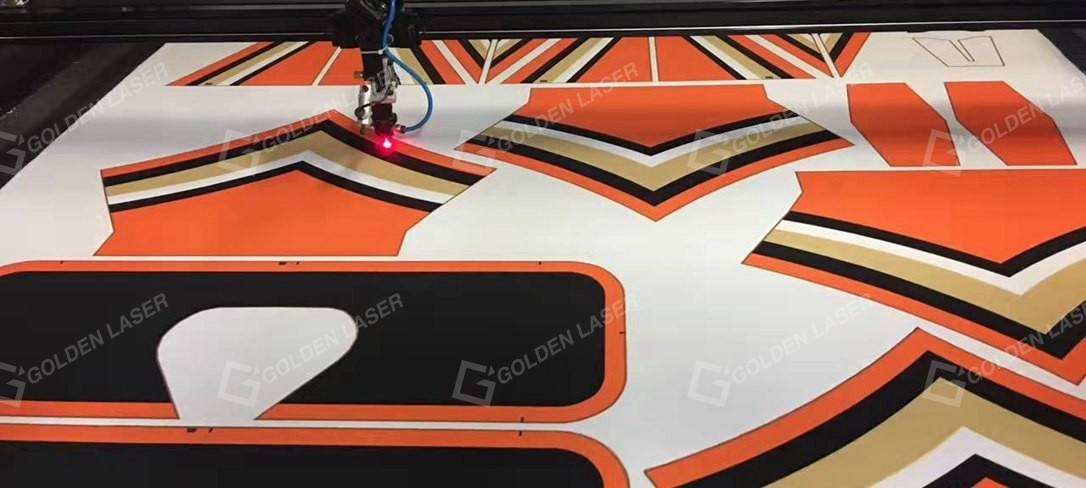 Laser cutting of dye-sublimation hockey jersey
0.5mm cutting precision
high speed
reliable quality
low maintenance costs
What are the benefits of laser cutting?
- All in automatic, less cost
Cutting edge quality
Smooth
Material stained?
No, because of contactless laser processing
Drag on material?
No, because of contactless laser processing
HOW VISION LASER CUTTER WORKS?
WORK MODE 1 → SCAN ON THE FLY
Simplify the entire production process. Automatic cutting for roll fabrics
Save tool and labor cost
High output (500 sets of jersey per day per shift - only for reference)
No required the original graphics files
High precision
WORK MODEL 2 → SCAN REGISTRATION MARKS
For soft materials easy to distort, curl, extend
For complicated pattern, nesting pattern inside the outline and high precision cutting requirements
What are Vision Laser System Advantages?
We recommend the following laser systems
for the digital printed sportswear industry:
Golden Laser has deeply explored the processing demands in the field of sportswear, and has launched a series of automated laser processing solutions to improve the processing quality of the sportswear, makes the production process simple, saves a lot of labor and time cost.
"Nothing is faster than this machine; nothing is easier than this machine!"
We have a complete laser processing technology, including laser cutting, laser engraving, laser perforating and laser marking.
Find our laser machines
Test your materials, optimize the process, provide video, processing parameters, and more, free of charge.
Go to sample gallery
Deepen the demands of industries, with automated and intelligent laser application solutions to help users innovate and develop.
Go to industry solutions