Laser Cutting System for Patterned Fabrics Marker Matching
Features
Collocation
Tech Specs
Models
Material & Application
Solution
Request
LASER Automatic Cutting System for Patterned Fabrics
- Creative Solutions for Your Productive Environment
Complete solution for optimization of production processes using patterned fabrics – from marker matching to automatic cut.
LASER Automatic Cutting System for Patterned Fabrics delivers a complete solution for automatic alignment of markers to fabric stripes and plaids.
Performed stages: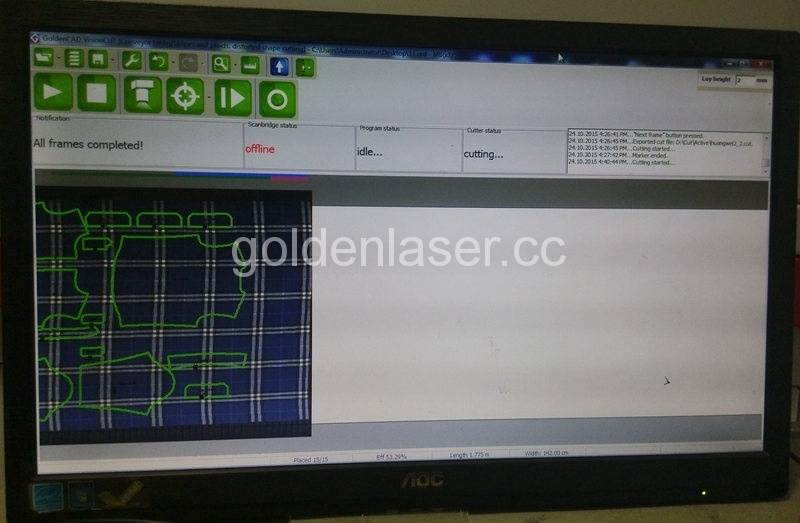 - Making "matching point" with Pattern Designer
- Smart nesting with Auto Marker
- Import the marker into VisionLASER
- Capture the fabric. Detect the fabric pattern
- Match the marker
- Automatic laser cutting
The solution combines Pattern Designer, Auto Marker and VisionLASER software, with the best-of-breed laser cutters from GOLDENLASER, thus offering an optimal cutting solution, flexible and adapted to the textile industry.
Automatic pattern fabric matching in action
Improve the quality and performance of your production with a complete and flexible solution, optimized for marker matching on patterned fabric.
Laser Cutting Solution Features
1. Collection deviation on stripes and plaids fabric is within 1mm
2. Automatically adjust cutting route by the deformation or distortion of fabric.
3. The most material saving nesting
4. One machine can process 200 to 500 sets of clothing per day
5. Automatically feeding, scanning, recognition and cutting, without manual intervention.
6. Laser can perfectly cut elastic fabrics and knitted fabrics. Automatic edge sealing. No burr. No fraying.
Laser Cutting Machine Configuration

Cutting Area
1600mm×(1300mm+800mm)1600mm×(2000mm+1000mm)(accept customization)
Working Table
Vacuum adsorption conveyor working table
Laser Type
CO2 DC glass laser tube / CO2 RF metal laser tube
Laser Power
80W ~ 275W
Software
CAD Pattern Designer, Auto Marker, VisionLASER
Fully Automatic
The gear feeder (optional), the rectify deviation feeding system (optional)
Red light positioning (optional), Mark pen (optional)
→ CJGV-160200LD+100AF VisionLASER Automatic Cutting System for Patterned Fabrics
→ CJGV-160130LD+80AF VisionLASER Automatic Cutting System for Printed Fabrics
GOLDEN LASER – Intelligent Alignment and Automatic Cut VisionLASER System
VisionLASER Introduction
VisionLASER system is new developed software based on our laser control system. It can automatically recognize and cut printing graphics on the printed fabrics, or processing at the specified location according to the positioning of fabric stripes. It is widely used in garment with stripes & plaids, printed sportswear, advertising banner, large format patterned carpet, etc.
VisionLASER Cutting System Applicable Industries
① Garment industry: top grade clothing, shirts, suits, skirts with stripe, plaid or patterned fabrics
Printing industry: printed garment, advertising banners, toys, carpets, etc.
② Shoes industry: weaving sport shoes
③ Furniture industry: sofa, chair, tablecloth with aligned stripes, plaids or patterned fabrics
④ Bags and suitcases: Top grade bags, suitcases, wallets with aligned stripes, plaids or patterned fabrics