Parachute, Paraglider Laser Cutting Machine
Features
Collocation
Tech Specs
Models
Material & Application
Solution
Request
Laser Cutting Machine for Parachute, Paraglider CJG-160600LD
Laser Cutter Advantage for Industrial Fabrics of Outdoor Products
•

 Laser cutting with large working area

•

 Smooth, cleaning cutting edge, no reworking necessary

•

 No fraying of fabric, no deformation of fabric

•

 Automated production process with conveyor and feeding systems

• 

Simple production via a PC design grogram

• 

Complete extraction and filtering of the cutting emissions
MACHINE FEATURES
• Simplify the process. Multiple use for one machine – cutting fabrics from roll to pieces, marking number on pieces, and drilling (small holes), etc.
• Saving material. User-friendly Marker software, saving 7% or more materials.
• High precision. Laser spot reaches to 0.1mm. Perfectly processing right angle, small holes and all kinds of complex graphics.
• Good cutting edges result. The laser cut fabric edge strength is 20 times higher than the ordinary cutting tools.
• Automation. Auto feeding system, vacuum conveyor and collecting working table.
• Strong cutting ability. Capable of cutting polyester, PP. PVC fabric, polyamide, nonwoven, nylon, foam, cotton, PTFE, etc.
• With this series of laser cutting machine to achieve single ply or multi-layer cutting has been successfully applied to mass production.
Conveyor working table
› It can process extra length material, and do the continuous processing for material in roll.
› It makes sure the maximum plainness and the lowest reflectivity.
› If equipped with the auto-feeder, it can achieve full automatic processing.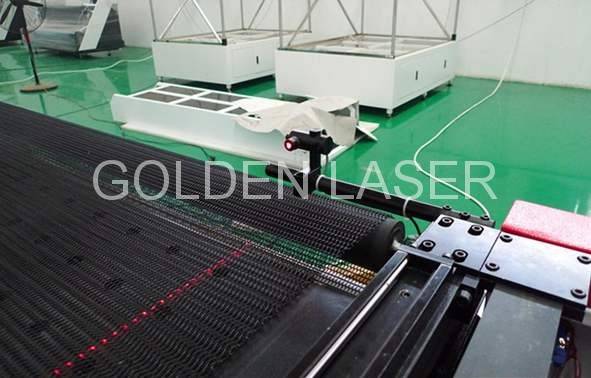 Auto Feeder
› Automatic feeding system, rectify deviations automatically.
CJG-160600LD Laser Cutting Machine Configuration
Cutting Area
1600mm×6000mm (63in×236in)
working size customization acceptable
Laser Type
CO2 DC glass laser tube
CO2 RF metal laser tube
Laser Power
CO2 DC glass laser 130 watts / 150 watts
CO2 RF metal laser 150 watts / 275 watts
Working Table
Vacuum adsorption conveyor working table
Software
GOLDENLASER cutting software, VisionLASER, CAD Pattern Designer, Auto Marker
Fully Automatic
The gear feeder (optional), the rectify deviation feeding system (optional)
Optional
Red light positioning system, Mark pen

***

 Note: As products are constantly updated, please contact us for latest specifications. 

***
GOLDEN LASER – CO2 Flatbed Laser Cutting Machine
Flatbed CO2 Laser Cutting Machine with Conveyor Belts

Model NO.

Working Area

CJG-160250LD

1600mm×2500mm (63" ×98.4")

CJG-160300LD

1600mm×3000mm (63" ×118.1")

CJG-210300LD

2100mm×3000mm (82.7" ×118.1")

CJG-250300LD

2500mm×3000mm (98.4" ×118.1")

CJG-210600LD

2100mm×6000mm (82.7" ×236.2")

CJG-210800LD

2100mm×8000mm (82.7" ×315")

CJG-2101100LD

2100mm×11000mm (82.7" ×433")

CJG-3401100LD

3400mm×11000mm (133.8" ×433")

CJG-300500LD

3000mm×5000mm (118.1" ×196.9")

CJG-320500LD

3200mm×5000mm (126" ×196.9")

CJG-320800LD

3200mm×8000mm (126" ×315")

CJG-3201000LD

3200mm×10000mm (126" ×393.7")
WORKING AREAS CAN BE CUSTOMIZED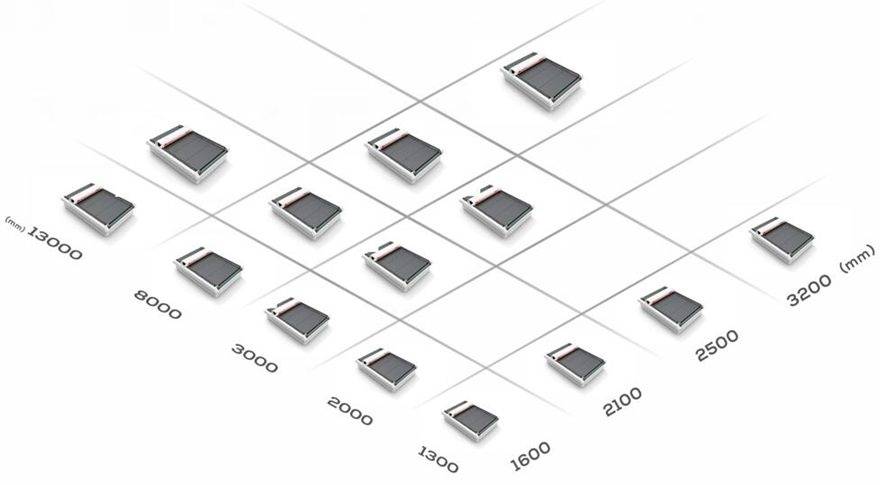 Laser Cutting Machine Application Field
Suitable for cutting PVC, polyester, nylon, PVC fabric, Oxford fabric, polyamide fabric, Tarpaulin, canvas, PVC tarpaulin, PE tarpaulins, tarp, PVC membrane structure, polyamide, polypropylene, nonwoven, ripstop fabrics, Lycra, Mesh, EVA sponge, acrylic fabric, ETFE, PTFE, PE, vinyl, etc.
Laser Cutting industrial Fabrics Sample
Applicable to tent, awning, marquee, canopy, sailcloth, parachute, paraglider, parasail, inflatable castle ,sunshade, umbrella, soft signage, rubber boat, fire balloon, etc.
As the leader of laser solution for flexible fabrics, GODLEN LASER developed large format Flat bed Co2 laser cutting machines for industrial fabric cutting.
Integrated laser cutting, precision unwinding and rewinding, auto marker, continuous cutting of super long material, auto-recognition cutting, marking, scoring and order management together.
Super large working size, fast speed, and high precision, with CE approval.
At present, GOLDEN LASER has developed more than 30 models of laser cutting machines for industrial fabrics and flexible materials. There are 4 series:
(1) Synchronous Belt Series: Synchronous belt transmission with accurate transmission. Stable performance, high efficiency, lubrication-free and easy maintenance. Compared with other laser cutting machines, it has lower cost.
(2) Galvanometer Series: High speed Galvo scanner. Processing speed can reach up to 8000mm/s. Especially suitable for high speed processing of small images.
(3) Galvanometer with X, Y Axis Series: Combining X, Y laser head cutting and Galvo head engraving. No need re-locating. High precision, high efficiency and more convenient.
(4) Double Y-axis Series: with flying route and double Y-axis structure (principal axis and auxiliary axis). The double Y-axis share the weight of gantry and can achieve large format high speed cutting (1200mm/s).
Laser Cutting Machine for Textiles Brief Introduction
Compared with traditional knife or punching processing, laser is advanced CNC technology and a unique non-contact processing, working without any graphical limits and will not produce any mechanical deformation. Laser processing has the advantages of high precision, high speed, no fraying, and high quality results. In addition, applicability of laser processing is more flexible. Laser can do cutting, engraving, hollowing, punching and other processing for a variety of textile, fabrics, garment accessories, leather, fur, shoe, plush toy, home textile, upholstery, carpet, automotive interior, car seat cover, etc. Laser processing technology is more sophisticated, creative and unique.
Golden Laser Technology Advantages:
1. Automatic edge-finding and cutting technology with optic Camera software
2. Multi-head digital movable cutting for plush toys industry
3. Efficient and smart nesting technology
4. Large format high speed engraving and punching technology for home textile fabrics
5. Advantage pattern digitizing technology
6. Long strip flying marking and cutting technology without splicing traces
7. Advanced solutions for genuine leather cutting
8. Super-long material continuous cutting
9. High performance of spreading, feeding and rewinding system
Advantages of Laser Cutting
No burr/fraying with laser cutting
Laser cutting is done by high temperature process. It can make cut edge to close up automatically. Hence, no need to recut the patterns after one-time cutting.
No distortion to the processed fabric
In the process of cutting, laser dose not touch the processed fabric, but laser beam works on the fabric.
High precision
Diameter of the laser beam can be focalized into 0.1mm (we adopt top lens imported from world famous company II-VI-INFRARED).
Cutting is done exactly according to uploaded graphics through computer control.
High efficiency and easy operation
Just upload the graphics into the cutting machine and laser will cut fabric into shapes as designed.