Laser Cutting of Filter Cloth

Laser Cutting of Glass Fiber

Laser Cutting of Filter Media

Laser Cutting of Filtration Fabric

Filter Fabric Laser Cutting
Laser Cutting of Filter Cloth, Fibreglass, Nonwoven, PP, Filter Mats, Filtration Media
LASER CUTTING - CUTTING-EDGE TECHNOLOGY FOR OPTIMAL RESULTS
Do you have a headache about your current production for filtration fabrics? Tired of making tools, high labor cost, high tools cost? Need to prepare large space for storage the tools? Defective products, time waste? Let's introduce the laser cutting machine for your application. Laser cutting technology is a very popular trend for filter application. Our customers from all filter industry are using our laser machines now, such as liquid filtration, air filtration, industrial filtration, air bags, dust bags, filtration press cloth, etc.
FILTER CLOTH INDUSTRY
INDUSTRY INTRODUCTION
Filtration as an important environmental and safety control process, from industrial gas-solid separation, gas-liquid separation, solid-liquid separation, solid-solid separation, to daily household appliances in the air purification and water purification, filtration has been increasingly widely applied to multiple areas. Specific applications such as power plants, steel mills, cement plants and other emissions, textile and garment industry, air filtration, sewage treatment, chemical industry filtration crystallization, the automotive industry air, oil filter and home air conditioning, vacuum cleaner and so on.
The main filter materials are fibrous materials, woven fabrics and metal materials, especially the most widely used fiber materials, mainly cotton, wool, linen, silk, viscose fiber, polypropylene, nylon, polyester, acrylic, nitrile, such as synthetic fibers, as well as glass fibers, ceramic fibers, metal fibers and so on.
Applications are constantly expanding and filtering materials are also update, the product from the dust cloth, dust bags, filters filter barrels, filter cotton, to filter.
Why Laser?
• Precise – High precision and accuracy of repeatability
• Clean – Non-contact cutting and non-dust
• One-step – No need rework. No fraying edges
• Costless – No tool wear. Less labors
• Save time, save materials and save space
• All-round – cut any filter materials
• High flexibility – cut any kinds of shapes simultaneously
• Automated – production process with conveyor and feeding systems
GOLDEN LASER's CO2 flatbed laser cutting machine to ensure precision, speed and the ultimate in quality for filter medias cutting.
Here precise filter cloth shapes are created via CAD software and transferred to the high-speed laser cutters.
As a result, you are assured high speed, superior cutting, sealed edges and the quality demanded – consistently – of world-class filter cloth.
Contact us to learn more about GOLDEN LASER's state-of-the-art filter cloth laser cutting machine, contributing to your competitive advantage.
Laser Cutting System for Filter Cloth Production
JMC Series High Speed High Precision Laser Cutter In Details
High precision rack and pinion
▎Cutting speed up to 1200m/s, the ACC up to 10000mm/s2, maintain long-term stability.
Auto-feeder (Precision tension feeding)
▎Tension correction and feeding with laser cutter for continuous feeding and cutting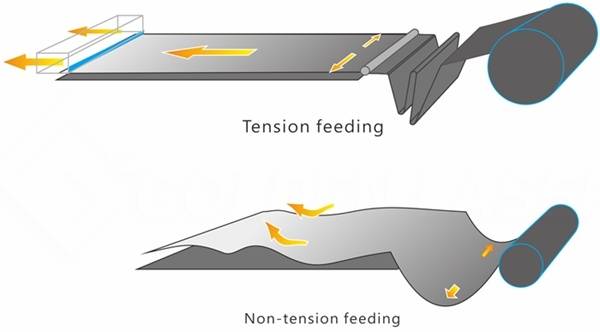 World-class CO2 laser source
▎World-class CO2 metal RF laser, stable and durable
Vacuum absorbing honeycomb conveyor working table
▎Flat, automatic, low reflectivity from laser
Independent intellectual property rights
▎Customized control system for industrial flexible materials
Japan YASKAWA servo motor
▎High precision, stable speed, overload ability
Automatic sorting system
▎Fully automatic sorting system. Make the material feeding, cutting, sorting at one time
Customizing the size of the high-precision laser cutting bed
▎2300mm×2300mm (90.5 inch×90.5 inch), 2500mm×3000mm(98.4 inch×118 inch), 3000mm×3000mm (118 inch×118 inch), Or optional

Laser cutting of filters, filter cloth, filter materials, filter mats, filtration medias
Filter cloth comfortably cut to any size
› Automatic sealing of cutting edges. No fraying of the cloth
žžž› No tool wear – no loss of quality
žžž› High precision and accuracy of repeatability
žžž › Automated production process with conveyor and feeding systems
žžž › Intelligent graphic design and nesting software, easy to use. Available for cutting any graphics and shapes. (Compatible with a variety of graphics format)
žžž › Automatic switching of marking system and laser head emitting beam. Perforation, marking and cutting all in one step.
žžž › Filter cloth cutting edges can be customized, cloth edges lifetime can be set as required.
žžž › Vacuum adsorption working table, prevention of cloth edges crimping or warping.
žžž › Complete exhaust and filtering of cutting emissions possible
žžž › Optional fully enclosed structure to ensure the cutting dust does not leak, suitable for operation in the intensive production plant.
Filter material dust-free cutting by laser
Precisely cut almost Any Kinds of filter materials in Any Shapes
Typical filter media are: Polyethylene (PE), Polypropylene (PP), Polyester (PES), Polyamide (PA), Fibre glass, Non-woven, Fabric, Paper, Felt, PTFE, etc.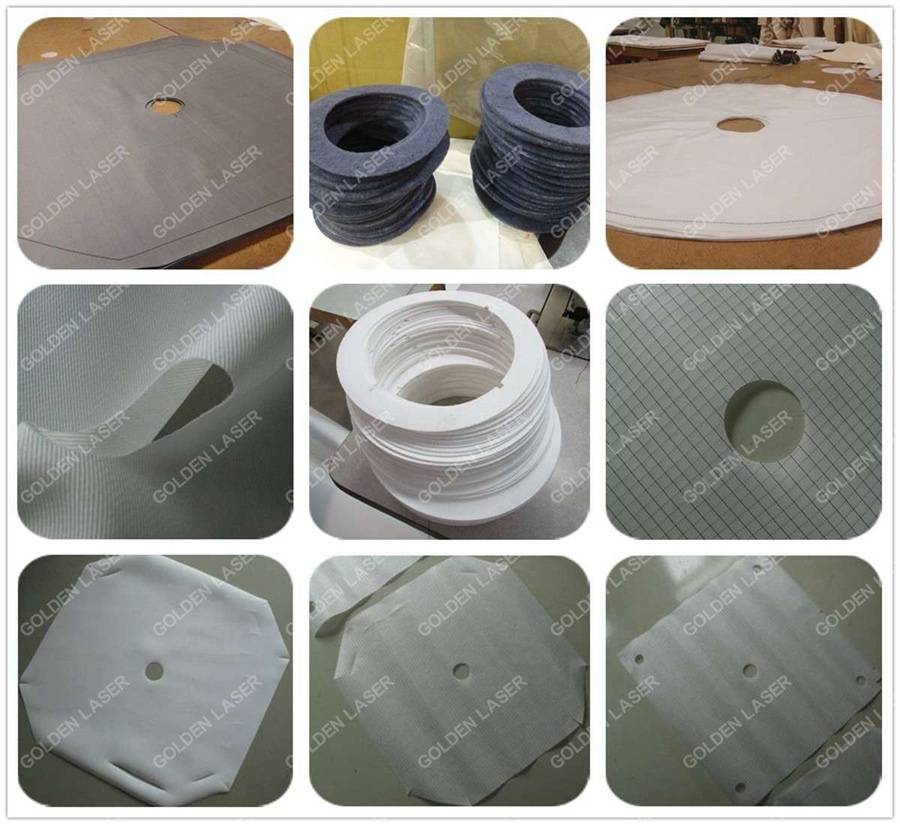 ---
Post time: May-03-2018