Jeans Laser Engraving Machine
Features
Collocation
Tech Specs
Models
Material & Application
Solution
Jeans Laser Engraving Machine
ZJ(3D)-9090LD
Features of Jeans Laser Engraving System
•   This laser system is specially designed for Denim Jeans engraving, successfully replaced traditional processing. energy-saving, eco-friendly, no pollution and strong personalized.
•   Circulating convey processing. While in the process, at the same time it also can load material with high productivity.
•   This machine is equipped with 500W CO2 RF metal laser and triaxial dynamic large-format galvanometer control system, Low maintenance cost. Fully closed structure. Smoking effect is good. Safe and reliable system.
•   It can engrave a variety of personalized designs such as cat whiskers, monkey wash, PP spray, hanging rub, ripped, sandblasting, snow, portrait and other effects with clear texture and never fade.
Highlights of Jeans Laser Engraving System
• 

Especially suitable for Denim Jeans laser wash processing

• 

Projection positioning engraving parts, processing more accurate

• 

Multi-station circulating conveyor, precisely aligning and feeding

• 

Working Area:900X900mm / 1200X1200mm

• 

500W CO2 RF metal laser tube

• 

3D dynamic large-format galvanometer marking technology

• 

Energy saving

• 

Low maintenance

• 

Hermetic structure

• 

Low contamination

• 

Excellent suction effect

• 

High working efficiency
Jeans Laser Engraving Processing Flow

Jeans Laser Engraving Machine Working Scene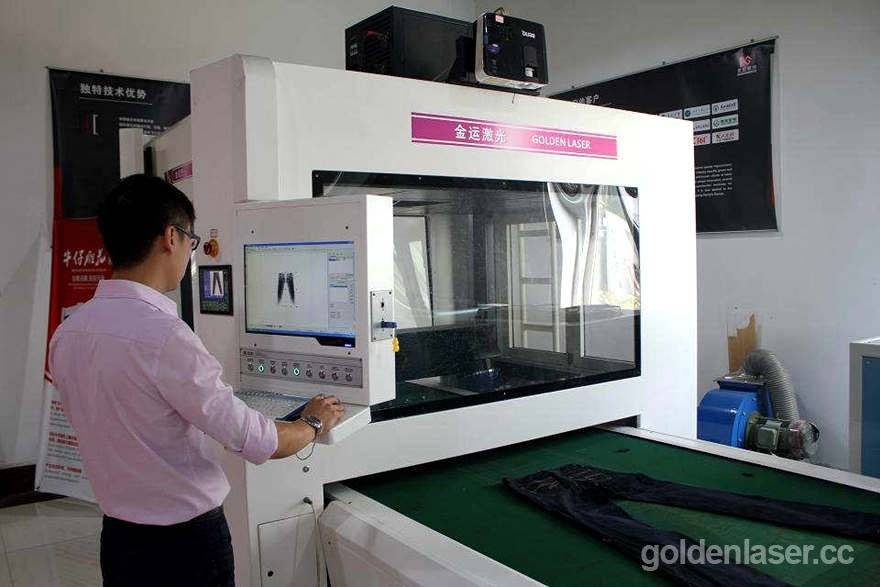 ZJ(3D)-9090LD Denim Jeans Laser Engraving Machine

Laser Generator and Optic parameters
Laser Type
CO2 RF metal laser
Laser Power
500W / 275W
Laser Wavelength
10.6 micro meters
Galvo effective area
900mmX900mm
Galvo process speed
0-20000mm/s (defined as the process material and requirement)
Software system
Control software
Goldenlaser original software
Software Format
BMP, AI, DST, DXF, PLT, etc.
Working table parameter
Working table type
Transport rubber conveyer belt
Extend feed table area
1100mm width X 1500mm length
Conveyor speed
0-600mm/s
Assistant System
Protection System
Full protection with optic part structure
Control System
GoldenLaser III control card
Cooling System
Constant temperature water chiller 5KW for laser machine
Exhaust System
Fixed Upper exhaust fans / Air blow fans
→ General Type Laser Engraving System for Denim Jeans ZJ (3D) -9090TB
→ Affordable Type Laser Engraving System for Denim Jeans ZJ (3D) -15075TB
→ Roll to roll Denim Engraving Laser System ZJ (3D) -160LD
Jeans Laser Engraving Machine Application and Industry
Digital laser processing replaced the traditional Jeans production process of hand brush, sandblasting, whisker, monkey wash, PP spray, hanging rub, ripped, etc. Shorten the process, enhance the added value. Very suitable for denim garment factories, washing laundry, washing and dyeing factories and personalized fashion denim deep processing.
<< More Samples of Denim Jeans laser engraving
Eight Reasons for Choosing Golden Laser – Denim Jeans Laser Engraving Machine
1. Simple Processing, Saving Labor
Laser engraving adopts automatic motion control system and laser non-contact and heat processing principle. Software produces fading, sand blasting, 3D cat whiskers, tattered and other effects instead of the traditional process of "hand brush". Compared jeans cat whiskers, monkeys, tattered, worn of traditional tedious manual process, Laser engraving only needs to import the designed graphics and multiple processes can be done in one step, more efficient, and can save a lot of labor costs.
2. Conformity, Low Rejection Rate
Just set up the best laser engraving process parameters, to ensure the conformity of the effect of all finished products, avoiding the quality differences of traditional manual processing
3. Personalized Value-Added
Compared to traditional manual processing can only process simple graphics, laser engraving can produce a clear artistic pattern on denim fabric. These patterns may include text, numbers, logos, images. Precise laser engraving process can also present monkeys, whiskers, worn, washing and other effects. Jeans laser engraved graphics without any restrictions, can easily combine with fashion elements to enhance the broad personalized value-added space.
4. Environmentally Friendly
Processing mainly by means of optical, mechanical and electrical, denim laser process completely abandoned all kinds of high pollution sources, such as sand blasting, oxidation, printing and dyeing, which can protect environment by the greatest extent.
5. Wide Range of Application
After many years of accumulated technology and application development, Golden Laser has been developed for multi-platform full range of denim laser engraving equipment. Customers can equip with the most suitable products according to their own needs and processing scale to create the highest profit.
6. Competitive Price
Golden Laser has 14 years of experience in the textile and apparel industry and established healthy patterns of new product development, control costs and more benefits back to customers.
7. Service
Golden Laser has professional sales team, consultant team, and after-sale service team that could ensure customers impeccable service on site as well as remote service over phone or internet video.
8. Win-Win Cooperation
Golden Laser can help business partners set up a joint laboratory to explore creative products and win a position in denim processing market. Reduce investment risk and accelerate transformation of traditional denim enterprise.