Laser Cutting Leather for Shoes Industry
GOLDEN LASER develops special CO₂ laser cutter for leather.
Leather & Shoes Industry Introduction
In the leather shoe industry, factory orders are based on market demand and end user's consuming habits. With the increasing demand for personalized products, manufacturing orders are become in variety and small batches, which requires the factories timely delivery to reach the "fast fashion" trend.
Leather & Shoe Industry Status
01   The trend of intelligent manufacturing
02   Orders in variety and small quantity
03   Labor cost keep increasing
04    Materials cost keep increasing
05    Environmental Problem
Why does laser cutting technology is ideal for leather shoes processing?
Compared with the traditional different types of cutting methods (manual, knife cutting or punching), laser has the obvious advantages of faster speed, maximizing material utilization, non-contact processing to reduce surface damage of leather materials, saving labor and reducing waste. When cutting leather, the laser is melting the material, resulting in clean and perfectly sealed edges. 
Laser cutting is suitable for of small-volume customized leather products.
Choosing a laser can bring you:
a.  High precision cutting quality
b.  Multiple styles pattern design
c.  Customized products
d.  High efficiency
e.  Quick response
f.  Fast delivery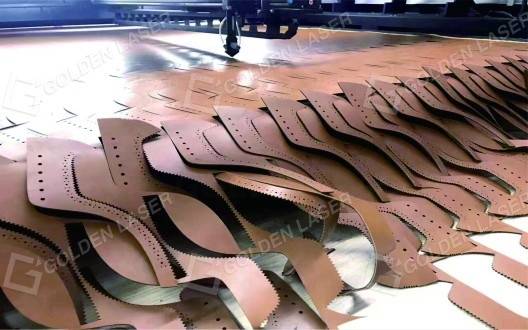 "Fast fashion" gradually replaces "ordinary styles"
Laser cutting technology can fully meet the cutting needs of small-volume, multi-variety and multi-style shoe industry.
Laser cutting is the most suitable processing for the footwear factories which are doing customized orders with various styles, patterns and different quantity of each style/pattern.
Intelligent management for the production process
We have a complete laser processing technology, including laser cutting, laser engraving, laser perforating and laser marking.
Find our laser machines
Test your materials, optimize the process, provide video, processing parameters, and more, free of charge.
Go to sample gallery
Digging deep into industries, with automated and intelligent laser application solutions to help users innovate and develop.
Go to industry solutions