Galvo Laser Cutting and Perforating Machine for Jersey Fabric
Features
Collocation
Tech Specs
Models
Material & Application
Solution
Galvo Laser Cutting and Perforating Machine for Jersey
ZJ(3D)-170200LD
Machine Features
• This is a versatile machine that can do both cutting and perforating.
• 150W or 275W RF metal CO2 lasers, high-speed scanning galvanometer and full servo motion cutting system, high speed (cutting speed is 5 times of the X-Y axis Co2 laser machine).
• With conveyor working table. Ultra high-speed automated continuous cutting for a variety of fabrics (with auto-feeding system). Dramatically higher cutting speeds than traditional cutting tool.
• According to the fabric and processing requirement, laser output power and processing speed is adjustable, maximum energy savings.
Laser Advantages –
Laser is an excellent choice for sports footwear and jersey cutting and perforating.
• Laser has the characteristics of non-contact and heat processing.
• Laser cutting, high precision, high efficiency, good quality, and automatic edge sealing. Laser perforating, clean, fine, and very fast.
Galvo Laser machine to perforate jersey fabrics.
Data Results
• Material width: 336.5mm (13.2″); Length: 140.7mm (5.5″)
• Perforating time just 4 seconds!
• Material: jersey fabrics with size 70cm (27.6″) ×90cm (35.4″)
• Perforating time only 25 seconds!
• Materials of laser processing also have no limit for the vast majority of sportswear fabrics. For elastic fabrics, in particular, laser cutting has more advantages than other cutting tool or manual cutting.
ZJ(3D)-170200LD GALVO Laser Machine
- working area: 1700mm×2000mm (66.9" x 78.7")
- with Germany GALVO laser head
- with offline control software
- with constant temperature water chiller
- with conveyor working table
- Servo motor system
- 220V / single phase 60Hz
- Auto feeder for feeding materials with skew adjustment function
High Speed Galvo Laser Cutting and Perforating Machine ZJ(3D)-170200LD
Technical Parameter
Laser type
Co2 RF metal laser tube
Laser power
150W / 275W
Cutting area
1700mm×2000mm
Working table
Mesh conveyor working table
No-load max speed
0-420000mm/min
Positioning accuracy
±0.1mm
Motion system
Offline servo system, 5 inches LCD screen
Cooling system
Constant temperature water-chiller
Power supply
AC220V ± 5%  50/60Hz
Format supported
AI, BMP, PLT, DXF, DST, etc.
Standard collocation
Mini air compressor, 1 set of 1100W top exhaust fan, 2 sets of 1100W bottom exhaust fans
Optional collocation
Auto-feeding system

***

 Note: As products are constantly updated, please contact us for latest specifications. 

***
→ High Speed Galvo Laser Cutting and Perforating Machine for Jersey ZJ(3D)-170200LD
→ Multifunction Galvo Laser Machine with Conveyor Belt and Auto Feeder ZJ(3D)-160100LD
→ High Speed Galvo Laser Engraving Machine  with Shuttle Working Table ZJ(3D)-9045TB
Applicable materials and industry
Suitable for polyester, microfibre fabric (textile), cellucotton, polyester fibre, etc.
Suitable for jerseys, sportswear, sports shoes, wiping cloth, non-dust cloth, paper diapers, etc.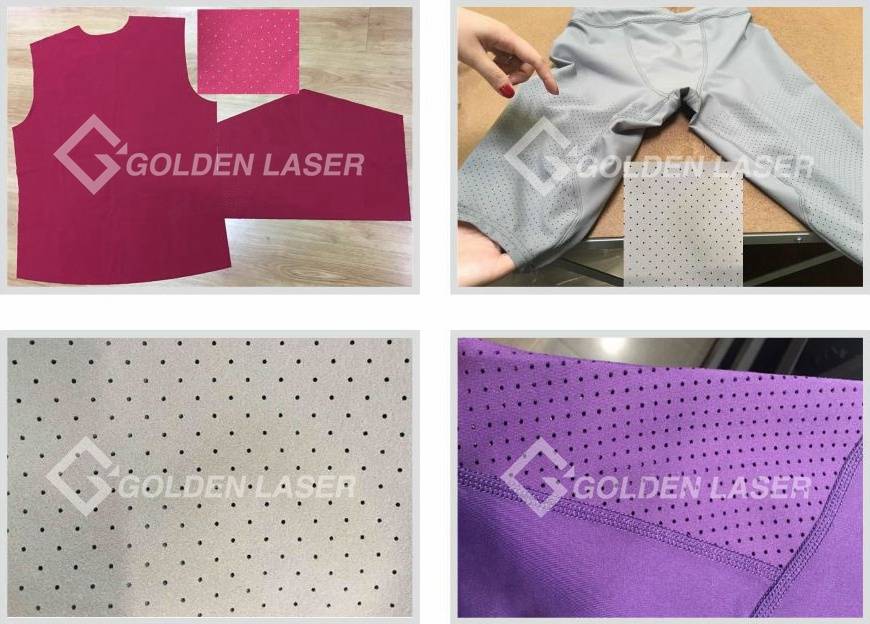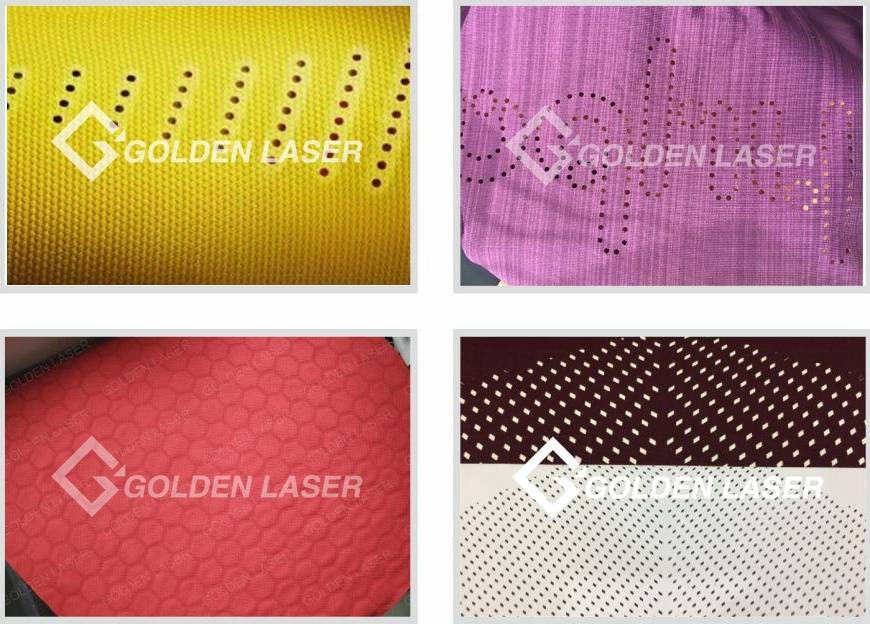 << Read More about Galvo laser perforating and cutting of fabrics
People are increasing emphasis on sports and health, while have increasingly high requirements for the sports jersey and shoes.
The comfort and breathability of jersey is very concerned by sportswear manufacturer. Most manufacturers are seeking to change the fabric from the fabric material and structure, and spend a lot of time and effort to promote innovation of fabrics. However, there are many warm and comfortable fabrics with poor ventilation or wicking capabilities. Therefore, the brand manufacturers shift attention to the laser technology.
Combining technical fabrics and laser technology to deep processing of fabrics, is another innovation of sportswear. Its comfort and permeability is also favored by sports stars.