CO2 Laser Cutting Machine for Acrylic Wood MDF
Features
Collocation
Tech Specs
Models
Material & Application
Solution
Large Area CO2 Laser Cutting Machine
for Advertising Industry
CJG-130250DT
Machine Features
• This is a professional CO2 laser cutting machine special for advertising industry. It is good at cutting wood, MDF, acrylic and other non-metal advertising materials.
• High speed flatbed laser cutting. This machine adopts steel girder structure with stable machine frame, ensuring the stability when the laser is processing with high speed.
• With the high precision ball screw driving or rack and pinion driving system, the cutting accuracy can reach 0.1mm.
• Knife strips working table, reduces the contacting area between the work pieces and the working table, greatly reducing reflections of cutting material, ensuring the cutting quality.
• Following type up and down exhaust systems can excellently exhaust the fume produced by cutting.
• If you also need to cut thin stainless steel or carbon steel sheet, this machine can equip one following adjusting focus cutting head, so that can meet requirement for cutting both nonmetal and thin metal. The following adjusting focus cutting head can choose the best focal length automatically when cutting the uneven steel sheet, ensures the best metal cutting results.
Machine Detail Photos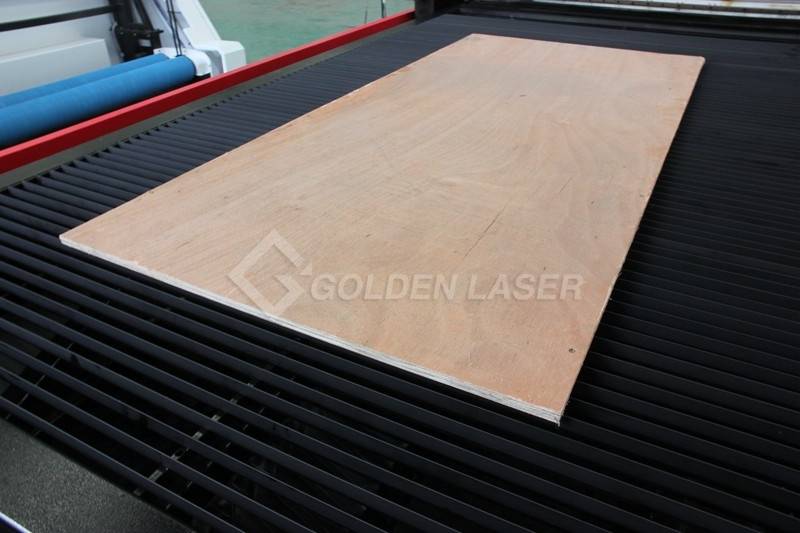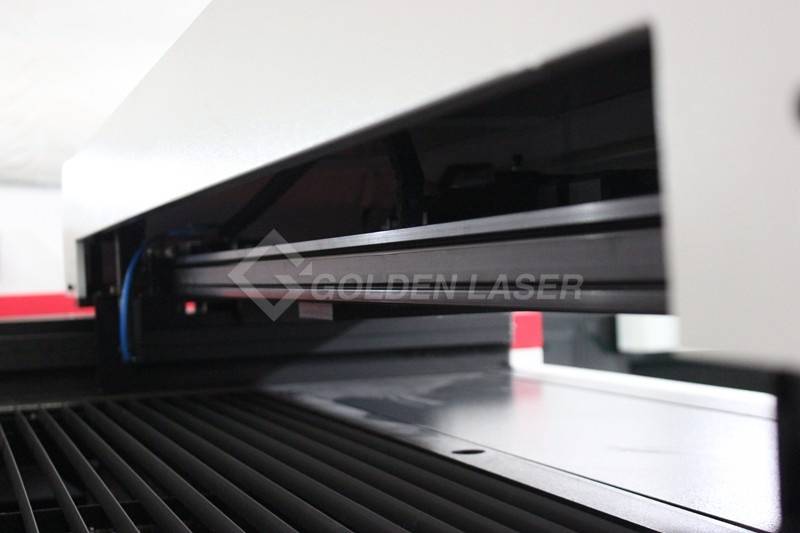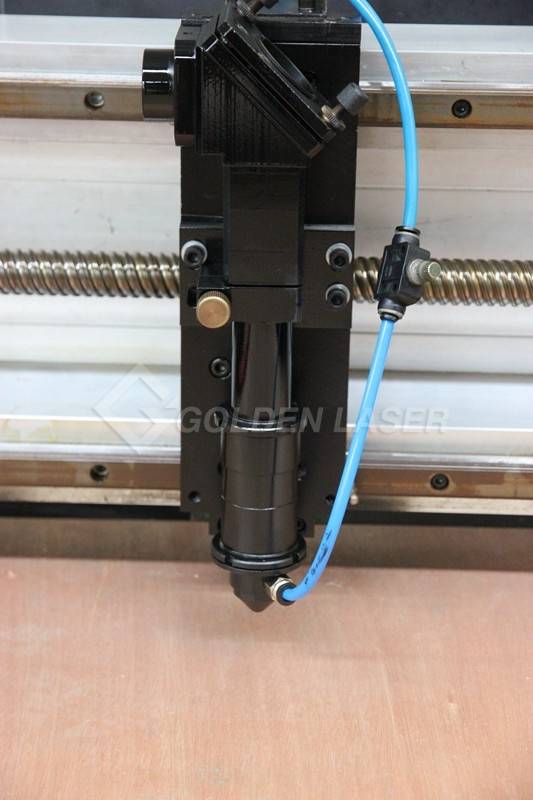 Laser cutting wood decoration made by our customers.
Large Area CO2 Laser Cutting Machine CJG-130250DT Technical Parameters
Laser Type

CO2 DC glass laser

CO2 RF metal laser

Laser Power

130W / 150W

150W ~ 500W

Working Area

1300mm×2500mm

(standard)

1500mm×3000mm, 2300mm×3100mm

(optional)

Accept Customization
Working Table
Knife strip working table
Cutting Speed (no-load)
0~48000mm/min
Motion System
Offline servo control system
High precision ball screw driving / rack and pinion driving system
Cooling System
Constant temperature water chiller for laser machine
Power Supply
AC220V±5%  50 / 60Hz
Format Supported
AI, BMP, PLT, DXF, DST, etc.
Software
GOLDEN LASER Cutting Software
Standard Collocation
Following top & bottom exhaust system, medium-pressure exhaust device, 550W exhaust fans, mini air compressor
Optional Collocation
CCD camera positioning system, auto following focusing system, automatic control high pressure blower valve

***

 Note: As products are constantly updated, please contact us for latest specifications. 

***
→ Medium and High Power Large Area CO2 Laser Cutting Machine for Advertising Industry CJG-130250DT
→ Motorized Up and Down Laser Cutting Engraving Machine JG-10060SG / JG-13090SG
→ CO2 Laser Cutting and Engraving Machine JG-10060 / JG-13070 / JGHY-12570 II (two laser heads)
→ Small CO2 Laser Engraving Machine JG-5030SG / JG-7040SG
Medium and High Power Large Area CO2 Laser Cutting Machine for Advertising Industry CJG-130250DT
Applicable Materials: acrylic, plastic, Acryl, PMMA, Perspex, Plexiglas, Plexiglass, wood, balsa, plywood, MDF, foam board, ABS, paperboard, cardboard, rubber sheet, etc.
Applicable Industries: Advertising, signs, signage, photo frame, gifts & crafts, promotional items, plaques, trophies, awards, precise ornaments, models, architectural models, etc.
Whether you are cutting wood, MDF, acrylic or advertising signs, whether you are in the field of architecture models or woodworking crafts, whether you are working with paperboard or cardboard…Laser cutting has never been so simple, accurate, and fast! As one of the world's leading laser manufacturers, Golden Laser offers a full scope of state-of-the-art laser equipment to deliver quick, clean, quality results for a broad range of industrial laser cutting needs.
Laser cutting machine is a perfect machine for working with a wide range of applications, including advertising, signs, signage, crafts, models, jigsaws, toys, veneer inlays, and more. High speed and clean edges are important for these applications. Golden Laser offers a fast, safe, and easy way to cut with smooth and precise edges, even for the most complex shapes and sizes.
Acrylic, wood, MDF and more advertising materials can be perfectly cut, engraved and marked with CO2 lasers
Laser systems from GOLDEN LASER have many advantages over conventional processing systems
√ Smooth and precise cutting edges, no rework necessary
√ Neither tool wear nor tool change necessary in comparison to routing, drilling or sawing
√ No fixing of material necessary due to contactless and forceless processing
√ High repeatability and consistent quality
√ Laser cutting and laser engraving of different material thicknesses and combinations in one process step.