High Speed Galvo Laser Engraving Machine for Leather Shoe
Features
Collocation
Tech Specs
Models
Material & Application
Solution
High Speed Galvanometer Laser Engraving Machine for Leather Shoes ZJ(3D)-9045TB
1) 150W (Standard) CO2 RF metal laser (150W / 275W / 500W Optional). Laser output power and processing speed can be adjusted to maximize energy savings
2) 3D dynamic galvanometer control system and automatic up and down Z axis ensure the best processing results.
3) Automatic shuttle zinc-iron alloy honeycomb working table. Convenient for feeding and rewinding. Continuous processing with high working efficiency. It can do multi-position processing. If on-the-fly engraving, the working area reaches 600mm×600mm.
4) Suitable for high speed engraving and punching large format leather, shoe material, fabrics, denim, etc; also engraving and cutting small items like leather jeans labels.
5) Use-friendly 5 inches LCD screen CNC system, off-line digital motion control system, high degree of automation.
6) Rear exhaust suction system. Short distance of exhaust suction with good effect.
7) Foot switch for easy operation.
8) If adopts 500W CO2 RF metal laser tube, cutting speed is 3 times of machine with 150W laser tube. It is especially suitable for cutting light color leather and genuine leather with better effect and higher efficiency.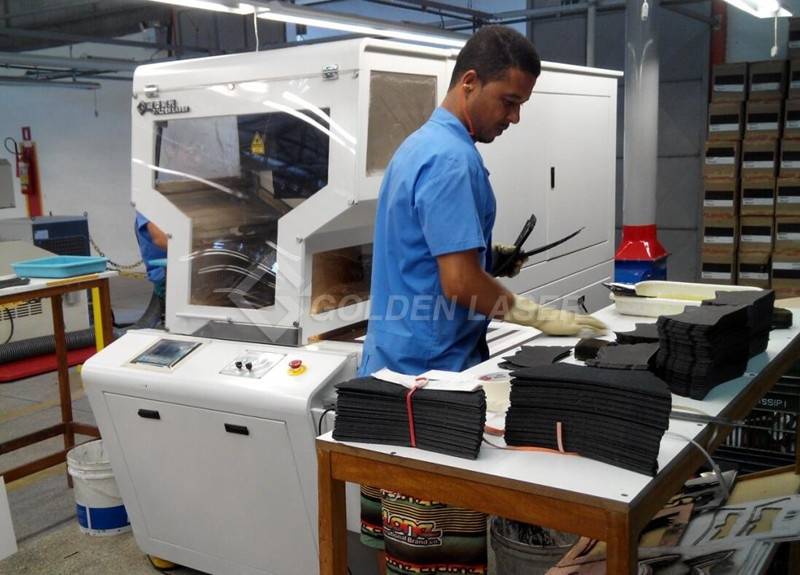 Customer on-site
Galvo Laser Engraving Leather Demo Video
ZJ(3D)-9045TB High Speed Galvo Laser Machine Technical Parameter
Laser type
CO2 RF metal laser tube
Laser power
150W / 275W / 500W
Working area
900mmX450mm
Working table
Shuttle Zn-Fe alloy honeycomb working table
Working speed
Adjustable
Positioning Accuracy
±0.1mm
Motion system
Offline 3-D dynamic galvanometer motion control system, 5 inch LCD screen
Cooling system
Constant temperature water chiller
Power supply
AC220V±5%    50/60HZ
Format supported
AI, BMP, PLT, DXF, DST etc.
Standard collocation
2 sets of 1100W exhaust fans, foot switch
Optional collocation
Red light positioning system

***

Note: As products are constantly updated, please contact us for latest specifications. 

***
• ZJ(3D)-9045TB High Speed Galvanometer Laser Engraving Machine for Leather Shoes
• ZJ(3D)-160100LD Multifunction Laser Engraving Punching Hollowing and Cutting Machine
• ZJ(3D)-170200LD High Speed Galvo Laser Cutting and Perforating Machine for Jersey
Laser Engraving Cutting Application
Laser applicable industries: shoes, home textile upholstery, furniture industry, fabric furnishings, garment accessories, apparel & clothing, automotive interiors, car mats, carpet mat rugs, luxurious bags, etc.
Laser applicable materials: Laser engraving cutting punching hollowing PU, PVC, artificial leather, synthetic leather, fur, genuine leather, imitation leather, natural leather, textile, fabric, suede, denim and other flexible materials.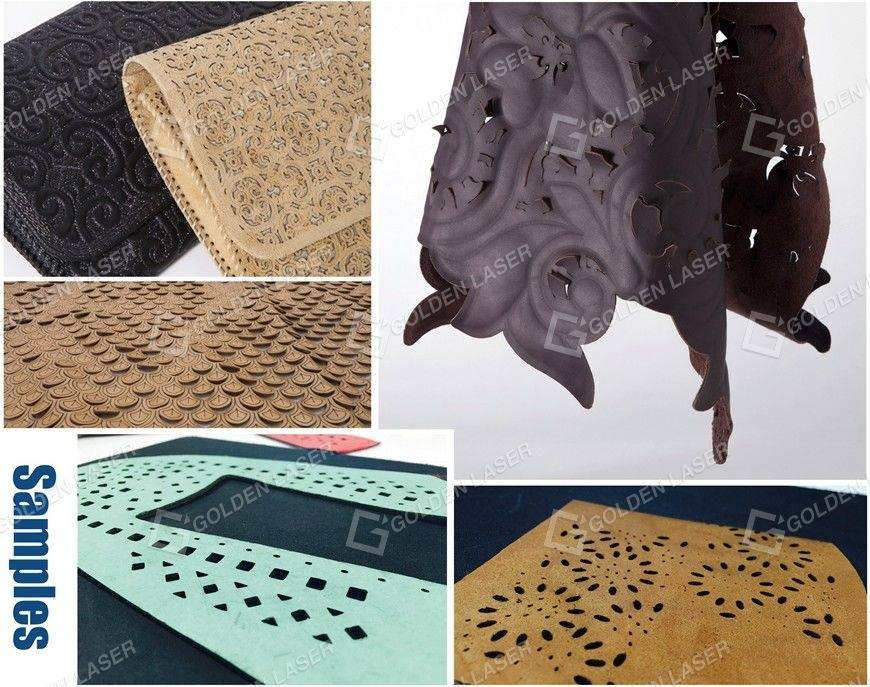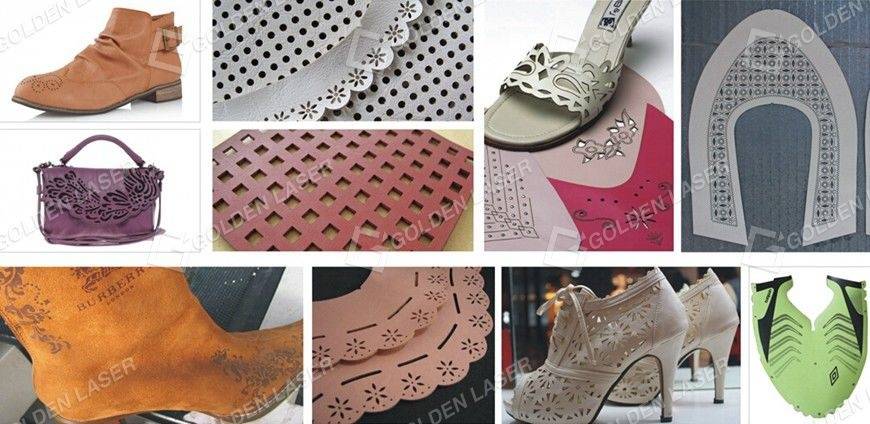 << More Samples of Leather Laser Engraving Cutting Hollowing
Golden Laser is one of the leading manufacturers for high-end CO2 laser machines for cutting, engraving and marking. Typical materials are textiles, fabrics, leather and acrylic, wood. Our laser cutters are designed for both small business enterprises and industrial solutions. We would be pleased to advise you!
HOW LASER CUTTING SYSTEMS WORK?
Laser Cutting Systems use high powered lasers to vaporize material in the laser beam path; eliminating hand labor and other complicated extraction methods needed for small part scrap removal.
There are two basic designs for laser cutting systems: and Galvanometer (Galvo) Systems and Gantry Systems:
•Galvanometer Laser Systems use mirror angles to reposition the laser beam in different directions; making the process relatively quick.
•Gantry Laser Systems are similar to XY Plotters.  They physically direct the laser beam perpendicular to the material that is being cut; making the process inherently slow.
ZJ(3D)-160100LD Fabric and Leather Laser Engraving and Cutting Machine: http://youtu.be/D0zXYUHrWSk
Leather Laser Machine on YouTube:
ZJ(3D)-9045TB 500W Galvo Laser Engraving Machine for Leather: http://youtu.be/HsW4dzoHD8o
CJG-160250LD CCD Genuine Leather Laser Cutting FlatBed: http://youtu.be/SJCW5ojFKK0
Double Head Co2 Laser Cutting Machine for Leather: http://youtu.be/T92J1ovtnok
Fabric Laser Machine on YouTube:
ZJJF(3D)-160LD Roll to Roll Fabric Laser Engraving Machine: http://youtu.be/nmH2xqlKA9M
ZJ(3D)-9090LD Jeans Laser Engraving Machine: http://youtu.be/QfbM85Q05OA
CJG-250300LD Textile Fabric Laser Cutting Machine: http://youtu.be/rN-a54VPIpQ
Mars Series Gantry Laser Cutting Machine, Demo Video: http://youtu.be/b_js8KrwGMM
Why Laser Cutting and Engraving of Leather and Textile
Contactless cutting with laser technology
Precise and very filigreed cuts
No leather deformation by stress-free material supply
Clear cutting edges without fraying
Melding of cutting edges regarding synthetic leather, thus no works before and after material processing
No tool wear by contactless laser processing
Constant cutting quality
By using mechanic tools (knife-cutter), the cutting of resistant, tough leather causes heavy wear. As a result, the cutting quality decreases from time to time. As the laser beam cuts without having contact with the material, it will still remain unchangedly 'keen'.  Laser engravings produce some kind of embossing and enable fascinating haptic effects.
Material information
Natural leather and synthetic leather will be used in various sectors. Apart from shoes and clothing, there are especially accessories that will be made of leather. That is why this material plays a specific role for designers. Besides, leather will often be used in the furniture industry and for interiors fittings of vehicles.
<< Read More about laser engraving cutting hollowing leather & shoes