The German industrial filtration exhibition FILTECH has just ended, and Golden Laser team is ready to prepare for the Visual Impact Image Expo in Brisbane, Australia, which will bring you a wonderful front-line broadcast.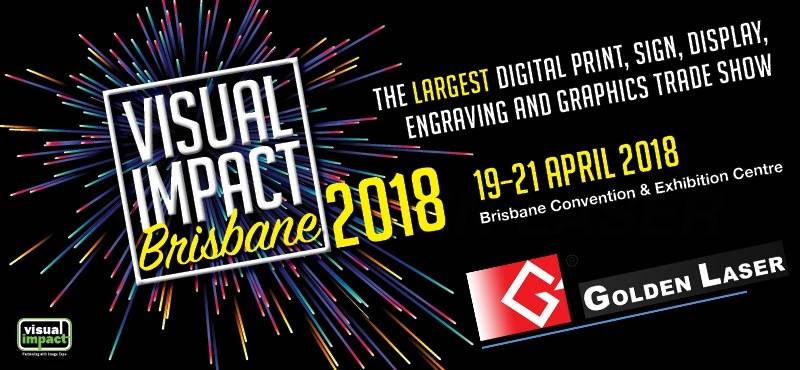 About the exhibition
Visual Impact Image Expo has been held for 15 years and is initiated by some local advertising industry suppliers in Australia. Three of the larger suppliers support the registration and establishment of the Visual Industry Supplier Association (VISA). The exhibition has been dedicated to promoting the market development of digital printing, signage, screen printing, engraving, inkjet art, advertising lighting, display technology, and advertising gifts, bringing more space to the development of the Australian advertising video industry. The Visual Impact Image Expo was held in Melbourne, Sydney and Brisbane in Australia.
Golden Laser First Show on Visual Impact Image Expo
Australia is the most economically developed country in the southern hemisphere and the 12th largest economy in the world. Australia has consistently been rated as a dynamic economy in the world by the OECD.
The distribution of Golden Laser to the Australia market not only complies with the trend, but also continues to dig deep into the industry's needs, and strives to build greater brand influence in the global advertising and digital printing industry.
                              ▲ CAD vision scanning laser cutting system                                                                           ▲ CAM high-precision vision laser cutting system
Application
♦ Large-format printed advertising banners, beach flags, knife flags, hanging flags, water flags, etc.
♦ Printed sportswear, jerseys, basketball clothes, football clothes, baseball clothes, yoga clothes, swimwear, etc.
♦ Small logos, letters, numbers and other high-precision graphics.
Meet us at
Visual Impact Image Expo
Booth Number G20
19~21 APRIL 2018
Brisbane Convention & Exhibition Centre