From the first generation of industrial fabric laser cutting machine in 2008 to the fifth generation laser cutting machine for filtering industry in 2018, GOLDEN LASER has developed from a pioneer to the current industry leader in the field of filtration and separation. What are the achievements of GOLDEN LASER in a field that has been concentrated for ten years?
Automated production process
We manufacture high-standard laser equipment, multi-functional expansion, configure automated feeding and receiving system, and develop flexible operating software… all in order to provide customers with higher production efficiency, more optimized production processes, and save users more economic and time costs to maximize benefits.

Automatic feeding device
For flexible filter materials, special conveyor is used and specially designed X-axis synchronous feeding device is equipped to avoid the deviation of materials in the feeding process. Equipped with receiving hopper to collect finished products.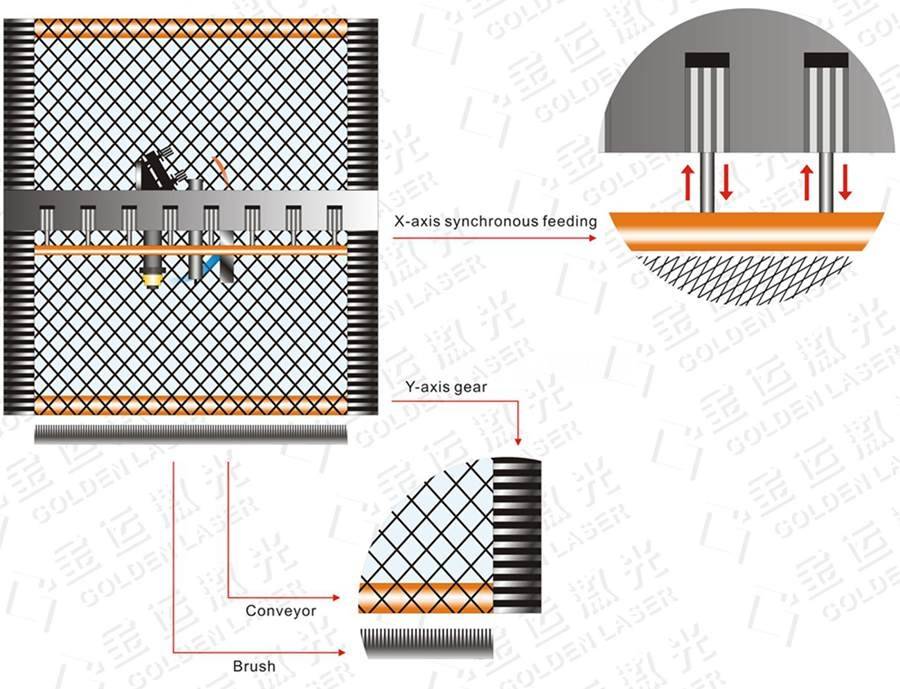 Double feeding device
Customized double-layer feeder for double-layer fabric processing demand.
Close to user requirements
We fully understand the customer's production requirements and test the customer's materials in advance. For more than a decade, we have accumulated more than 500 customer application examples and more than 10,000 laser applications. All we do is to customize the practical, profitable laser solution for our customers, to recommend laser machine configurations that precisely match the application requirements, and optional automation systems.
More configuration options
For the customer's needs, a contactless jetting inkjet marking device and a mark pen device are mounted on the laser head to mark the filter material for later sewing.
Environmental standard design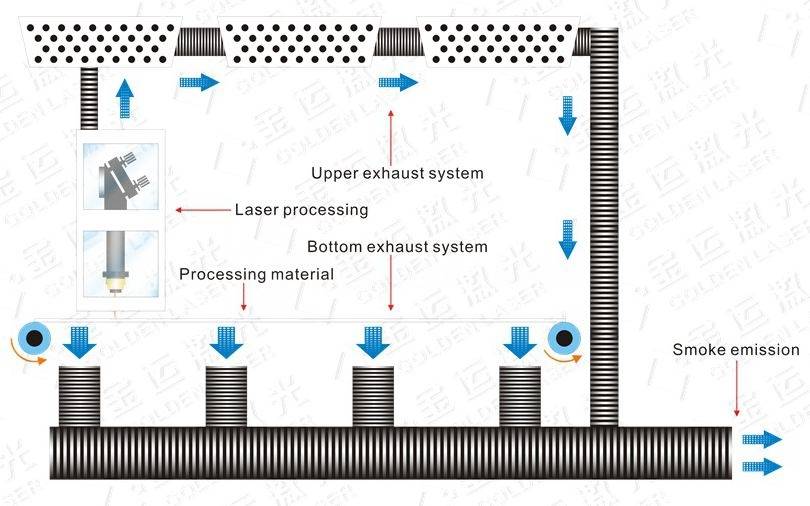 The body of the laser cutting machine is a fully enclosed structure and the interior uses fully enclosed exhaust systems. We are able to design the overall exhaust ducts for the production workshop, so that the factory meets the environmental standards.
In an era of efficiency, cost reduction, and maximization of benefits, we maintain a consistent excellence and innovation. We inherit and revere a spirit – "ingenuity". GOLDEN LASER has been interpreting this spirit for more than ten years and will devote a lifetime to it.