Laser Cutting Fabric for Swimwear and Fashion Apparel
Patterned fabric is paramount when it comes to the design and manufacture of premium quality clothing. One small mistake in the fabric cutting process can completely throw off the aesthetic appeal of the garment. Get everything just right, though, and the piece of clothing, whether it be a piece of swimwear, a pair of jeans or a dress, can be truly stunning. GOLDEN LASER is proud to provide laser cutting machines that extend application to swimwear of pattern alignment.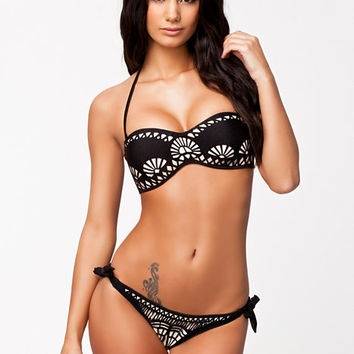 The Work
For more than a decade now, GOLDEN LASER cutting machines have helped many high-end swimwear manufacturers create absolutely stunning garments.
Displayed below is some of the fashionable laser cutting for a well-known swimwear and resort wear label.
GOLDEN LASER cutting machines perfectly cut custom print lycra fabrics. The spectacular results speak for themselves.
When Our Clients Are Satisfied with Our Machines, We're Happy
We feel a great sense of achievement when we see our quality laser cutting machines working all over of the world to improve production efficiency and products' added value. We don't rest until our clients are happy.
GOLDEN LASER offers one of the largest laser cutting table sizes available for delicate materials such as fabric, which helps us create garments that require large pieces. This also allows us to complete large quantities (sometimes tens to hundreds of thousands of units) in a timely manner while reducing fabric wastage by being able to nest together a large amount of garment pieces on the one large fabric block size.
Laser Cutting Fashions for All Occasions
In addition to our extremely popular laser cutting machines for swimwear, GOLDEN LASER cutting machines are also applied to a large range of other fashion accessories and garments. These include wedding dresses, sportswear, evening wear, embroidery appliqué and much more.
Another application which is regularly incorporated into fashion is leather laser cutting and leather engraving, which is commonly used for skirts, jackets, belts, bags, wallets, shoes and much more. Navigate our website to discover the full range of laser cutting machines we can provide.
---
Post time: Apr-28-2017