Aircraft Carpet Laser Cutting Machine
Features
Collocation
Tech Specs
Models
Material & Application
Solution
Request
Aircraft Carpet Laser Cutting Machine CJG-2101100LD
Specifications
• Large format flatbed CO2 laser cutting machine with 11 meters extra-long working table.
• Particularly suitable for large format continuous lines engraving and cutting of carpet mats materials.
• Vacuum conveyor working table with the auto feeding system (optional). Continuous cutting carpet mats materials.
• This laser cutting system can do extra-long nesting and full format cutting on a single pattern that is longer than the cutting format of the machine.
• Smart nesting software can do fast and material-saving nesting on the graphics to be cut.
• 5'' LCD display panel. Supporting multiple data transmission mode and can run in offline and online modes.
• Servo top exhaust suction system enables the laser head to be synchronized with the exhaust suction system, of which the suction effect is good and saves energy.
• Equipped with red light positioning device, preventing position deviation of the material in the feeding process and ensuring high cutting quality.
 • Users can also choose working formats of 1600mm × 3000mm (CJG-160300LD II), 3000mm x 4000mm (CJG-300400LD II), 2500mm × 3000mm (CJG-250300LD), 1600mm ×8000mm (CJG-160800LD), 3400mm ×11000mm (CJG-3401100LD) working areas and also other customized format of working areas.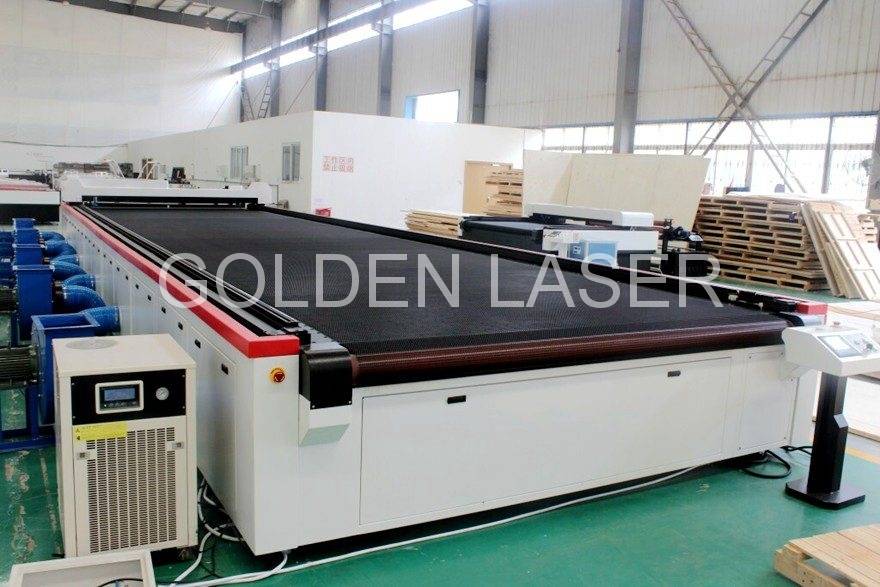 Aircraft carpet laser cutting machine in production
CJG-2101100LD Laser Cutting Machine Technical Parameter
Laser types

CO2 RF metal laser tube

Laser power

275W

Cutting area

2100mm ×11000mm (82.7 in ×433 in)

Working table

Vacuum conveyor working table

Working speed

Adjustable

Positioning accuracy

±0.1mm

Motion system

Servo motor control system, 5'' LCD display panel

Cooling system

Constant temperature water chiller

Power supply

AC220V ± 5% 50Hz

Graphics format supported

AI, BMP, PLT, DXF, DST, etc.

Standard collocation

Exhaust fan, air blower, GOLDENLASER offline software

Optional collocation

Auto-feeding system, red light positioning system

*** Note: As products are constantly updated, please contact us for latest specifications. ***
GOLDEN LASER – CO2 Flatbed Laser Cutting Machine
GOLDEN LASER –

 Flatbed CO2 Laser Cutting Machine

with Conveyor Belts

Model NO.

Working Area

CJG-160250LD

1600mm×2500mm (63" ×98.4")

CJG-160300LD

1600mm×3000mm (63" ×118.1")

CJG-210300LD

2100mm×3000mm (82.7" ×118.1")

CJG-250300LD

2500mm×3000mm (98.4" ×118.1")

CJG-210600LD

2100mm×6000mm (82.7" ×236.2")

CJG-210800LD

2100mm×8000mm (82.7" ×315")

CJG-2101100LD

2100mm×11000mm (82.7" ×433")

CJG-3401100LD

3400mm×11000mm (133.8" ×433")

CJG-300500LD

3000mm×5000mm (118.1" ×196.9")

CJG-320500LD

3200mm×5000mm (126" ×196.9")

CJG-320800LD

3200mm×8000mm (126" ×315")

CJG-3201000LD

3200mm×10000mm (126" ×393.7")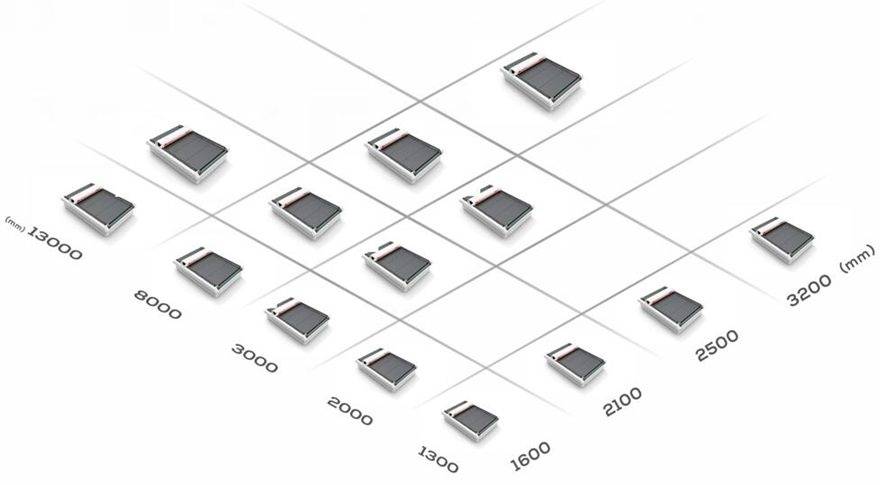 WORKING AREAS CAN BE CUSTOMIZED
Laser Cutting Carpet Applications
synthetic carpet, nylon carpet, wool carpet, polypropylene carpet, woven carpet, tufted carpet, decorative wool and nylon rug, cut pile carpet, polyester carpet, blends carpet, woolen carpet, non-woven carpet, wall to wall carpet, fiber carpet, mat, etc.
yoga mat, restaurant carpet, living room carpet, corridor carpet, floor carpet, office carpet, logo carpet, woolen hospitalities rug, hotel carpet, banquet hall carpet, commercial carpet, indoor carpet, outdoor carpet, floor rug, custom mat, carpet tile, Car mat, plane mat, aircraft carpet, etc.
Laser Cutting Carpet Samples
Why Choose Laser to Cut Carpet?
Cutting commercial and industrial carpet is another great CO2 laser application. In many cases, synthetic carpet is cut with little or no charring, and heat generated by the laser acts to seal edges to prevent fraying. Many specialized carpet installations in motor coaches, aircraft, and other small square-footage applications benefit from the precision and convenience of having the carpet precut on a large-area flatbed laser cutting system. Using a CAD file of the floor plan, the laser cutter can follow the outline of walls, appliances, and cabinetry – even making cutouts for table support posts and seat mounting rails as required.
The first photo shows a section of carpet with a support post cutout trepanned in the center. The carpet fibers are fused by the laser cutting process, which prevents fraying – a common problem when carpet is mechanically cut.
The second photo illustrates the cleanly cut edge of the cutout section. The blend of fibers in this carpet exhibit no signs of melting or charring.
The carpet laser cutting machine cuts different format and different sizes of all carpet materials. Its high efficiently and high performance will improve your production quantity, save time and save cost.