Laser Cutter for Knitting Vamp, Mesh Fabric Sports Shoe Upper
Features
Collocation
Tech Specs
Models
Material & Application
Solution
Request
Smart Vision Laser Cutter
Model No.: QMZDJG-160100LD
Machine Features
» Specially aiming to fast and precise positioning and automatic cutting for mesh fabrics, knitting vamp and printing fabric shoe uppers. Utilize the high precision Smart Vision Laser Cutting System to achieve image capture and automatic matching. After manually PC verify then send process order.
» Utilize the server networking technology, to realize "1+N" control model. And separate the manipulate area and laser processing area.
» The deviation generated during processing can be promptly corrected by remotely adjusting software. For the products that need manual positioning cutting, this system realizes fast and precise processing.
» This laser cutting system is stand-alone automation if equipped with automatic feeding and picking systems. To cooperate with "man-machine interconnect" system, an unmanned laser factory will be achieved.
Laser Cutting Fly Knitting Vamp Shoe Upper
QMZDJG160100LD Laser Cutter Technical Parameters
Laser Type

CO2 glass laser tube

Laser Power

80W / 130W / 150W

Cutting Area

1600mm×1000mm (63in×39.4in)

Scan Area

1500mm×900mm (59in×35.4in)

Working Table

Conveyor working table

Cooling System

Constant temperature water chiller

Power Supply

AC220V ± 5% 50/60Hz

Software

Golden Laser Smart Vision Cutting System

Format Supported

AI, BMP, PLT, DXF, DST, etc.

Exhaust System

3 sets of 550W exhaust systems

Space occupation

3184mm(L)×2850mm(W)×2412mm(H) / 125in(L)×112in(W)×95in(H)

 *** Note: As products are constantly updated, please contact us for latest specifications. ***
→ Smart Vision CO2 Laser Cutter with Camera ZDMJG-160100LD
→ MARS Laser Cutting Machine with Conveyor Working Table MJG-160100LD
Smart Vision Laser Cutter Application Industries
› Fly knitting vamp, mesh fabrics, printing fabric sports shoe uppers
› Swimwear, sportswear, Polo shirt, T Shirt,
› Printed label, tackle twill, printed letter, number, logo
› Clothing embroidery label, applique
› Advertising flags, banners
Laser Cutting Knitting Vamp Sports Shoe Upper Samples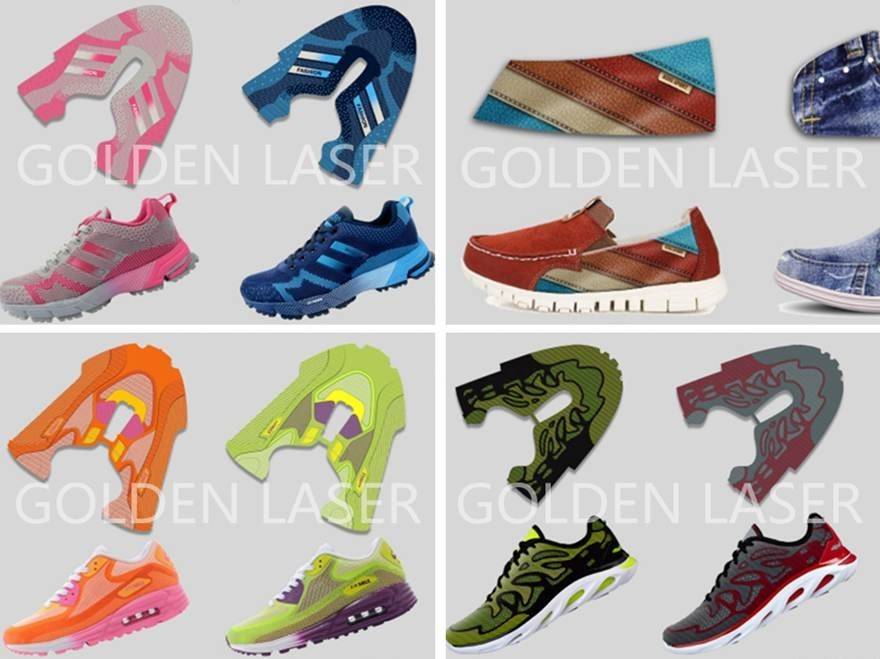 The man-machine interconnection – Smart Vision Laser Cutting System
√ High efficiency
√ User-friendly
√ High utilization of materials and equipment
• No required templates for identification of patterns contour. One time recognize all patterns. Full format automatically contour cutting. Automatic feeding. Complete assembly line mode of production.
• Automatic cutting of easily deformed material pattern
• Human-computer interconnect
• Automatic sets of templates
• Precise alignment
• Real-time computer monitoring
• Quickly fine-tune the cutting position
• No errors. Zero rejection rate
• One person, one computer, operates multiple laser machines. High utilization of labor.
• Vision system can recognize a full-format pattern one-time.
• When Laser machine is cutting a pattern, the other patterns are fine adjusted with manually on PC. High machine utilization rate.
Knitting Vamp Laser Cutting Process
 
camera takes photo and extract outline
automatic match + manual adjustment
send process order to laser cutter to finish cutting