Wide Format Laser Cutting Machine for Flags, Banners, Soft Signage
Features
Collocation
Tech Specs
Models
Material & Application
Solution
Banner, Flag, Soft-signage
Wide Format Laser Cutting Machine with Vision System
CJGV-320400LD
→ The Vision Laser Cutting System, manufactured by GOLDEN LASER, is an innovative, highly proven, unique cutting solution designed specifically for the digital print industry and print service providers. It delivers unparalleled capabilities for finishing wide format digitally printed or dye-sublimated textile graphics and banner, flag, soft-signage with customized cutting widths and lengths for virtually any application. Systems can be produced in width up to 3.2 meters and lengths up to 4 meters or more. The rack and pinion drive system provides for impressive cutting speed and accuracy paired to a welded-steel base.
→ The system is equipped with an industrial class CO2 laser cutting system. A sophisticated camera vision registration system (VisionLaser) is standard. VisionLaser is ideal for cutting digital printed or dye-sublimation textile fabrics of all shapes, sizes. Cameras scan the fabric, detect and recognize printed contour, or pick up printed registration marks and cut the chosen designs with speed and accuracy. A conveyor and auto-feeder is used to keep cutting continuous, saving time and increasing production speeds.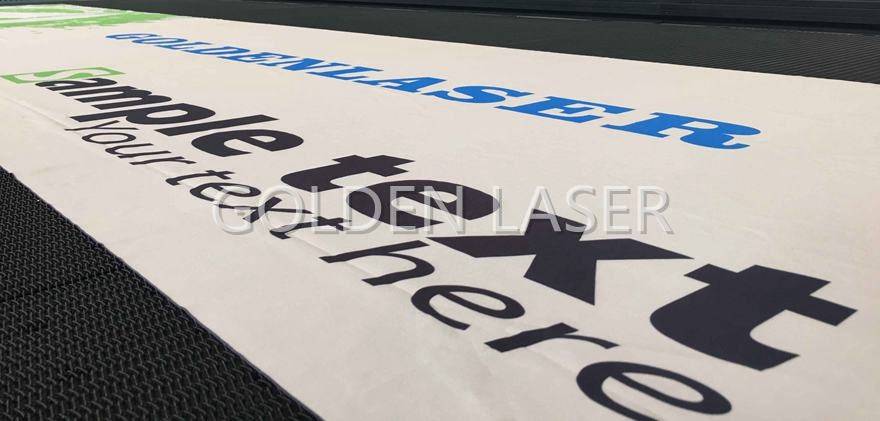 → The Vision Laser Cutting System comes standard in three different cutting widths ranging from 1.6m (63 inches), 1.8m (70 inches) and 3.2m (126 inches). Cutting lengths from 2m (79 inches) 3m (118 inches), 4m (157 inches) or in custom sizes.
Laser Cutting Printed Banner Demo
MACHINE FEATURES
1. Large format flying recognition. It takes only 5 seconds to recognize one entire working area. While feeding fabric by the movable conveyor, the cameras can quickly identify printed graphics in real-time and the cutting information will be transmitted to the cutting machine. After finished cutting one entire working area, it will repeat the same process. The whole process without human intervention.
2. Good at cutting complex graphics. Laser cutting allows for cutting through single-ply of materials. Cutting with lasers also allows for cutting of intricate patterns in varying materials. For the fine and detailed graphics, the software can extract the original graphics according to the position of mark points. The cutting accuracy reach to ±0.1mm.
3. Good at cutting stretch fabrics. The cutting edge is clean, soft, smooth and automatic sealing. Laser finishing of polyester textiles provides sealed cauterized edges. Sealed edges leave a clean and professional finish, eliminating the need of additional finishing steps such as hemming and sewing.
Wide Format Laser Cutting System SPECS
Cutting Area
1600mm×2000mm (63"×79"), 2600mm×3000mm (102"×118"), 3200mm×4000mm (126"×157"), (accept customization)
Working Table
Vacuum adsorption conveyor working table
Laser Type
CO2 DC glass laser tube / CO2 RF metal laser tube
Laser Power
80 Watt to 500 Watt
Software
GOLDENLASER cutting software, VisionLASER, CAD Pattern Designer, Auto Marker
Fully Automatic
The gear feeder (optional), the rectify deviation feeding system (optional)
Red light positioning (optional), Mark pen (optional)

***

 Note: As products are constantly updated, please contact us for latest specifications. 

***
Related Laser Machine Models
√  Wide Format Laser Cutting Machine for Flags, Banners, Soft Signage    CJGV-320400LD
√  Vision Laser Cutting Machine for Sublimation Fabric    CJGV-160200LD+100AF
√  Vision Laser Cutter for Sublimation Sportswear    CJGV-160130LD+80AF
√  Vision Laser Cutting System for Patterned Fabrics Marker Matching
√  High Speed Galvo Laser Cutting and Perforating Machine for Jersey    ZJ(3D)-170200LD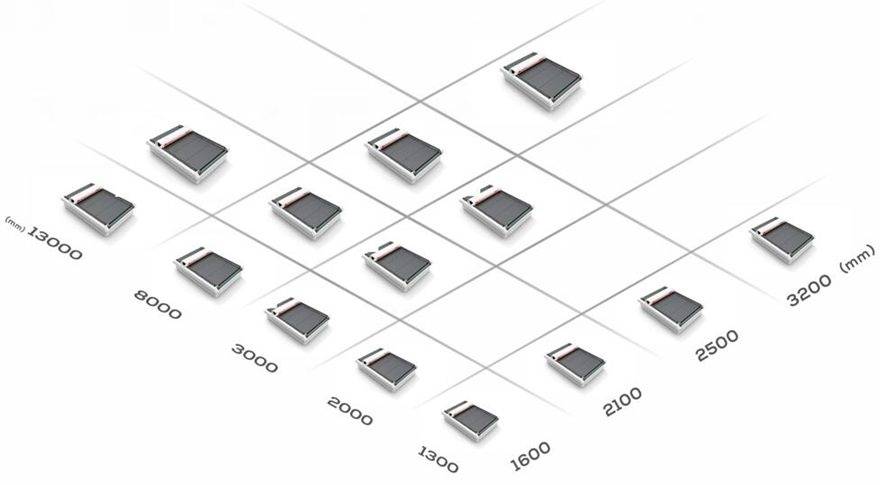 WORKING AREAS CAN BE CUSTOMIZED
Build your Image, Cut your Design
How VisionLaser works
ž © žCameras scanning the fabric during the conveyor advance, detect and recognize printed patterns, and send the cutting information to the cutting machine.
ž © This process is repeating after the machine finishes to cut the current cutting window.
ž © This system can be adapted on laser cutters of any dimensions; the only factor which depends on cutter width is the number of cameras.
ž © Depending of required cutting precision the number of cameras can be increased / decreased. For most of the practical applications, 90cm of cutter width requires 1 camera.
Advantages
ž © Detection of printed fabrics directly from rolls, without any preparation;
ž © Fully automatic process, not required human intervention;
ž © High precision detection;
ž © Fast. Comparing with other systems with detection cameras installed on cutting head, situation in which the scanning is an extremely time consuming process. A major advantage, compared with systems using projectors, is that the process is fully automatic, no human intervention is required and is extremely fast (less than 5 seconds for an entire cutting window), while systems using video projectors are entirely manual, time consuming and less precise.