Industrial Fabric Laser Cutting Machine for Filters
Features
Collocation
Tech Specs
Models
Material & Application
Solution
Request
Industrial Fabric Laser Cutting Machine CJG-250400LD
Machine Features
Ø Enclosure design, ensures smokeless cutting.
Ø Machining width of 2500 mm * 4000 mm. Servo motor drive, high processing efficiency.
Ø Marker pen system accordingly marks the cutting material.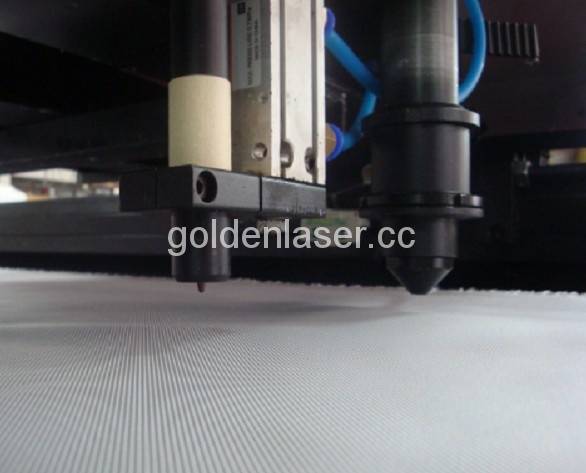 Ø Conveyor belts working table. It can be used with feeding system (optional), fast continuous cutting of the fabric.
Ø This cutting system can do extra-long nesting and full format continuous cutting for a single pattern that exceeds the cutting area of the machine.
Ø 5'' display panel. Supporting multiple data transmission mode and can run in offline and online mode.
Ø With red light positioning device to prevent material skewing in the feeding process, ensuring processing quality.
Ø This system can be used for cutting and punching for all kinds of industrial fabrics. Clean cutting edges, automatic edge sealing.
Ø This system can be equipped with high power Co2 RF lasers, high quality and high efficiency.
Ø Other working areas can be customized as requirement. (Width: 1600mm, 2100mm, 2500mm, 3200mm, etc. Length: 1300mm, 2000mm, 3000mm, 5000mm, 8000mm, 10000mm, 13000mm, etc.)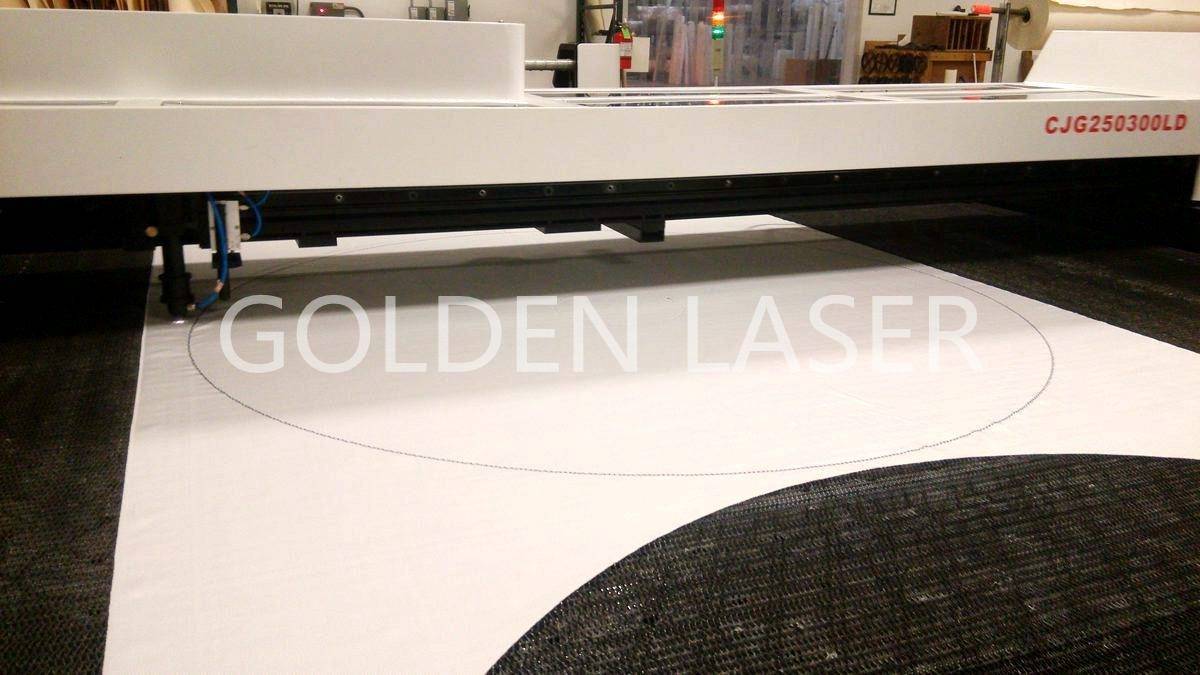 CO2 Flatbed Laser Cutting Machine Optional Configuration
| | |
| --- | --- |
| Auto Feeding System (multiply types) | CO2 RF metal laser tube (different powers optional) |
| Large Area Recognition System | Projection System |
| Red light positioning | Smart nesting |
| Pattern digitizing steel frame | Recognition, Pattern digitizing steel frame |
Model No.

Laser Cutting Machine CJG-250400LD

Laser Tube

CO2 glass laser

CO2 RF metal laser

Laser Power

130W

150W / 275W

Working Area

2500mmX4000mm

Working Table

Conveyor working table

Processing Speed

Adjustable

Positioning Accuracy

±0.1mm

Motion System

Offline Servo motion control system, 5 inches LCD display

Cooling System

Constant temperature water chiller

Power Supply

AC 220V±5% /50Hz

Format Supported

AI, BMP, PLT, DXF, DST, etc.

Standard Collocation

3 sets 3000W nether exhaust fans, Mini air compressor

Optional Collocation

Auto-feeding system, marker pen

*** Note: As products are constantly updated, please contact us for latest specifications. ***
GOLDEN LASER Uranus Series CO2 Laser Cutting Bed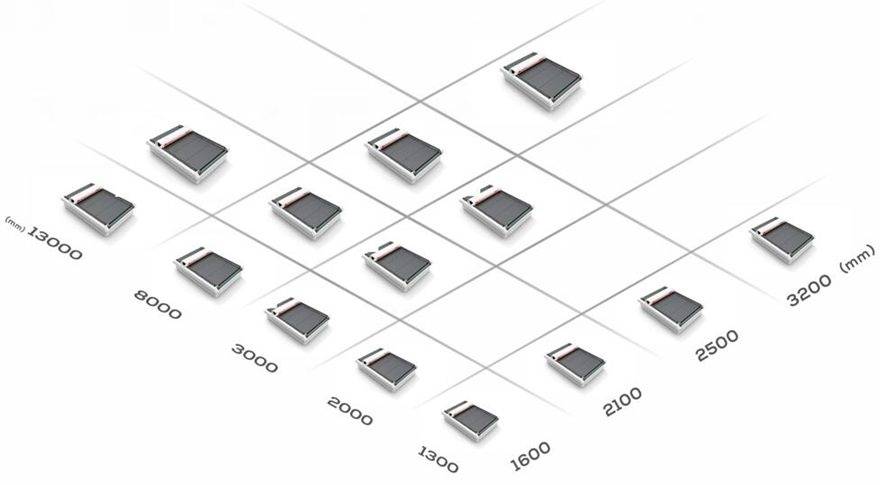 WORKING AREAS CAN BE CUSTOMIZED
→ CJG-250300LD Textile Fabric Laser Cutting Bed
→ CJGS-160300LD Garment Fabrics High-Speed Laser Cutting Bed
→ CJGV-160200LD Vision Laser Cutting Machine
→ CJGV-160130LD Vision Laser Cutting Machine
→ CJG-160250LD Genuine Leather Laser Cutting Machine
→ CJG-250400LD Industrial Fabrics Laser Cutting Bed
→ CJG-320800LD Large Format Laser Cutting Bed for Outdoor Products
→ CJG-210300LD Carpet Laser Cutting Bed
→ CJG-180300LD Automotive Interior Laser Cutting Bed
Application Industry
Suitable for filter fabric, glass fiber, nonwoven, sox duct and other industrial fabric industries.

Why Laser in Filter Industry
Automatic sealing of cutting edges prevents fringe
No tool wear – no loss of quality
Complete exhaust and filtering of cutting emissions possible
High precision and accuracy of repeatability
Automated production process with conveyor and feeding systems
Marking systems in various variants
Dust-free Cutting by Laser
Modern filter materials are used for separation of products hazardous to the environment. In many cases the separated material is the intended product. Therefore the used filter materials as for example felts, fleece, paper and other fabrics have to be designed accordingly. Cutting of such fabrics with conventional methods is very complex, dust-intensive and costly, as the cutting edges often fringe and therefore an additional cutting edge has to be considered right from the beginning. Here the laser cutting system offers many advantages as for example immediately sealed cutting edges, no fringe, almost no dust and an optimal material utilization.
Filter Material
Woven fabrics for mechanical separation of solids and liquids are frequently manufactured for technical processes, and are often in continuous operation. Whether for the separation of contaminants or for cider plants in food production – filter media are always needed. Individual filter and large filter manufacture, as well as immediate availability of the materials for the operators are arguments enough for favoring the specific use of laser technology. Typical filter media are:
√ Polyethylene (PE)   √ Polypropylene (PP)  √ Polyester (PES)  √ Polyamide (PA)  √ Nonwoven  √ Fibreglass  √ Glass fibre  √ Bolting cloth  √ Fabric  √ Paper  √ Felt  √ Nylon