Outdoor Products Fabric Laser Cutting Machine
Features
Collocation
Tech Specs
Models
Material & Application
Solution
Request
Large Format Laser Cutting Machine
 • It is equipped with open-type wide area cutting bed with processing area 3200X8000mm
 • Conveyor working table with super-large working area realizes one-time cutting for industrial fabrics, home textile and other wide area materials.
 • Optional auto-feeding system realizes cutting with continuous material feeding.
 • Standard configuration of 150W C02 RF metal laser tube with high precision, fast speed and easy maintenance.
Main Configuration
According to the European CE standard
Cutting Area: 3200mm x 8000mm (126″ x 315″)
Laser power: CO2 RF metal laser 150W
Working speed: 0 – 48000 mm / min
Vacuum conveyor working table
Japanese servo motor
Complete exhaust system
Laser head moves synchronously with exhaust system, smoke exhaust effect is better, energy saving and consumption reducing.
Features
- Frame – According with Europe CE standard
- Laser head – different focal lens and nozzle selections for different thickness materials cutting; Cover device around the laser head for exhaust, blower
- Control system
- Servo controlling motor for whole area moving; Offline USB2.0 control; Following laser power adjustment when working with curve designs
- Conveyor table, vacuum system, exhausting system; Conveyor working table for continuous cutting rolls of materials; Vacuum and exhausting system have large strength to absorb the processing materials and make it closed to table.
CO2 Flatbed Laser Cutting Machine Optional Configuration
| | |
| --- | --- |
| Auto Feeding System (multiply types) | CO2 RF metal laser tube (different powers optional) |
| Large Area Recognition System | Projection System |
| Red light positioning | Smart nesting |
| Pattern digitizing steel frame | Recognition, Pattern digitizing steel frame |
| | |
| --- | --- |
| Model | CJG-320800LD |
| Maximum Cutting Area | 3200mm x 8000mm (126″ x 315″) |
| Laser Power | 150W CO2 R. F. metal tube / 130W CO2 glass laser tube(American RF metal laser source with different laser power will be selected to install for cutting different thickness or speed demand) |
| Working speed | 0 – 48000mm / min |
| Control system | Nesting offline control, 5 inch display |
| Cooling mode | Water chiller cooling system |
| Power supply | AC220V ± 5% / 50Hz |
| Positioning Accuracy | ± 0.1mm |
| Software Support File | BMP, AI, PLT, DST, DXF |
| Machine Dimension | 10.37m x 4.46m x 1.56m |
| Machine Weight | 8620kg |
GOLDEN LASER Uranus Series CO2 Laser Cutting Bed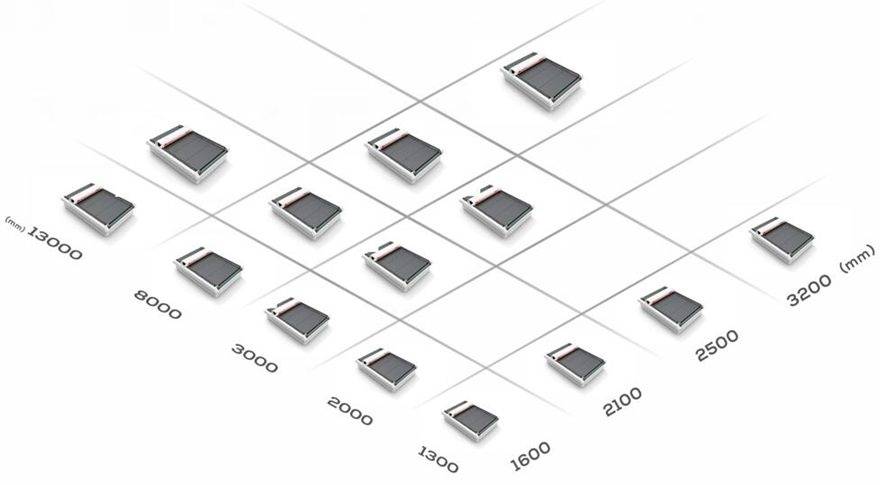 WORKING AREAS CAN BE CUSTOMIZED
→ CJG-320800LD Large Format Laser Cutting Bed for Outdoor Products
→ CJG-250300LD Textile Fabric Laser Cutting Bed
→ CJGS-160300LD Garment Fabrics High-Speed Laser Cutting Bed
→ CJGV-160200LD Vision Laser Cutting Machine
→ CJGV-160130LD Vision Laser Cutting Machine
→ CJG-160250LD Genuine Leather Laser Cutting Machine
→ CJG-250400LD Industrial Fabrics Laser Cutting Bed
→ CJG-210300LD Carpet Laser Cutting Bed
→ CJG-180300LD Automotive Interior Laser Cutting Bed
Application Field
Suitable for cutting flexible textile fabrics, polyester, nylon, PE / PVC / TPU /EVA/Oxford fabric, polyamide fabric, PVC coated fabric, Tarpaulin, canvas, PVC tarpaulin, PE tarpaulins, tarp, PVC membrane structure, etc.
This large format flatbed laser cutter is mainly used to cut outdoor products, such as tents, marquee, inflatable products, sailcloth, parachute, paraglider, parasail, rubber dinghy, canopy, awning, surf kites, fire balloon, etc.
As the leader of laser solution for flexible fabrics, GODLEN LASER developed large format Flat bed Co2 laser cutting machines for industrial fabric cutting.
Integrated laser cutting, precision unwinding and rewinding, auto marker, continuous cutting of super long material, auto-recognition cutting, marking, scoring and order management together.
Super large working size, fast speed, and high precision, with CE approval.
At present, GOLDEN LASER has developed more than 30 models of laser cutting machines for industrial fabrics and flexible materials. There are 4 series:
(1) Synchronous Belt Series: Synchronous belt transmission with accurate transmission. Stable performance, high efficiency, lubrication-free and easy maintenance. Compared with other laser cutting machines, it has lower cost.
(2) Galvanometer Series: High speed Galvo scanner. Processing speed can reach up to 8000mm/s. Especially suitable for high speed processing of small images.
(3) Galvanometer with X, Y Axis Series: Combining X, Y laser head cutting and Galvo head engraving. No need re-locating. High precision, high efficiency and more convenient.
(4) Double Y-axis Series: with flying route and double Y-axis structure (principal axis and auxiliary axis). The double Y-axis share the weight of gantry and can achieve large format high speed cutting (1200mm/s).
Laser Cutting Machine for Textiles Brief Introduction
Compared with traditional knife or punching processing, laser is advanced CNC technology and a unique non-contact processing, working without any graphical limits and will not produce any mechanical deformation. Laser processing has the advantages of high precision, high speed, no fraying, and high quality results. In addition, applicability of laser processing is more flexible. Laser can do cutting, engraving, hollowing, punching and other processing for a variety of textile, fabrics, garment accessories, leather, fur, shoe, plush toy, home textile, upholstery, carpet, automotive interior, car seat cover, etc. Laser processing technology is more sophisticated, creative and unique.
Golden Laser Technology Advantages:
1. Automatic edge-finding and cutting technology with optic Camera software
2. Multi-head digital movable cutting for plush toys industry
3. Efficient and smart nesting technology
4. Large format high speed engraving and punching technology for home textile fabrics
5. Advantage pattern digitizing technology
6. Long strip flying marking and cutting technology without splicing traces
7. Advanced solutions for genuine leather cutting
8. Super-long material continuous cutting
9. High performance of spreading, feeding and rewinding system
Advantages of Laser Cutting
No burr/fraying with laser cutting
Laser cutting is done by high temperature process. It can make cut edge to close up automatically. Hence, no need to recut the patterns after one-time cutting.
No distortion to the processed fabric
In the process of cutting, laser dose not touch the processed fabric, but laser beam works on the fabric.
High precision
Diameter of the laser beam can be focalized into 0.1mm (we adopt top lens imported from world famous company II-VI-INFRARED).
Cutting is done exactly according to uploaded graphics through computer control.
High efficiency and easy operation
Just upload the graphics into the cutting machine and laser will cut fabric into shapes as designed.