On May 9, Germany Texprocess 2017 (Leading International Trade Fair for Processing Textiles and Flexible Materials) officially began. On the first day of the exhibition, our partners from Europe, the Americas and the world poured in. Some are subject to our invitation, more are to take the initiative to go. They have witnessed the transformation of GOLDENLASER in recent years and are very supportive and appreciative.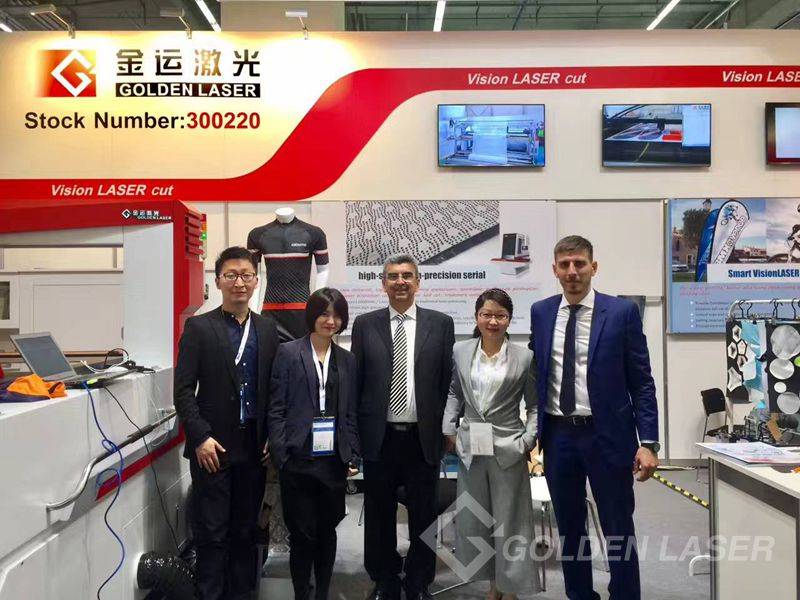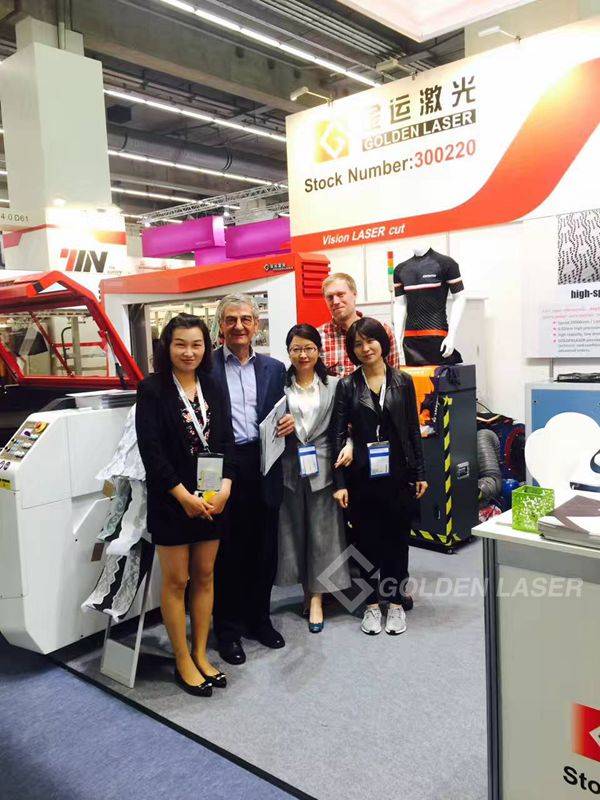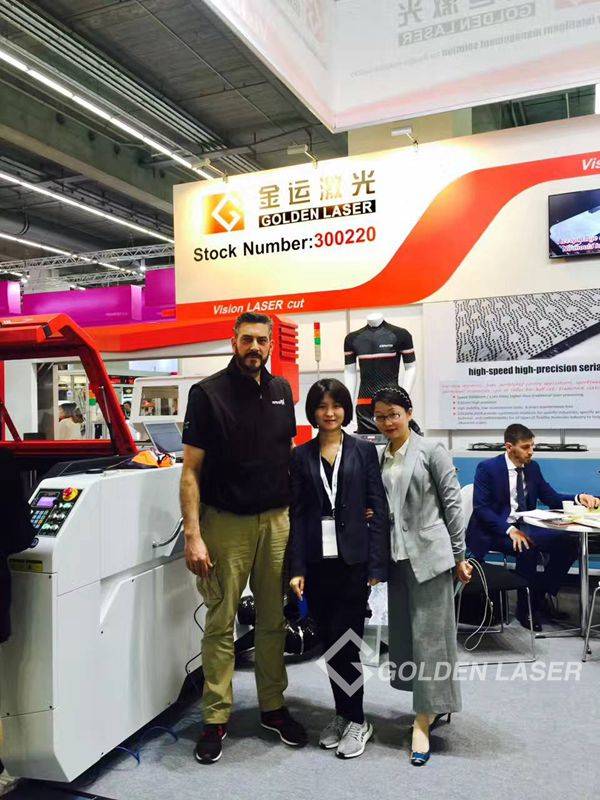 In the recent years, as the most of traditional manufacturing industries, laser industry is facing the fierce competition of homogenization in large-scale industrialization. The difference between products is shrinking and the profit of laser machines is constantly being squeezed. As early as 2013, GOLDENLASER realizes that we cannot compete with peers in price wars. We must abandon some low-end and low-value-added products and move to high-end equipment positioning. From the pursuit of scale development to the pursuit of high quality and cost-effective laser processing solutions. After nearly four years of efforts, GOLDENLASER successfully from the laser machine sales gradually turned to provide a full range of automated laser solutions provider.
At the expo site, a user from South Africa is the beneficiary of our laser cutting machine and laser application solutions. He specially brought us sportswear made from our laser cutting machine to us as gifts and appreciated our laser cutting solutions to bring a change to his factory.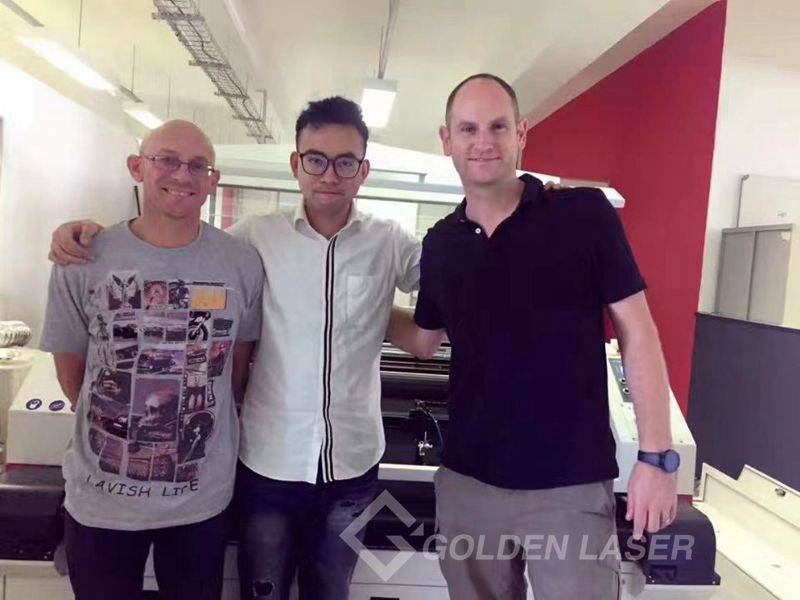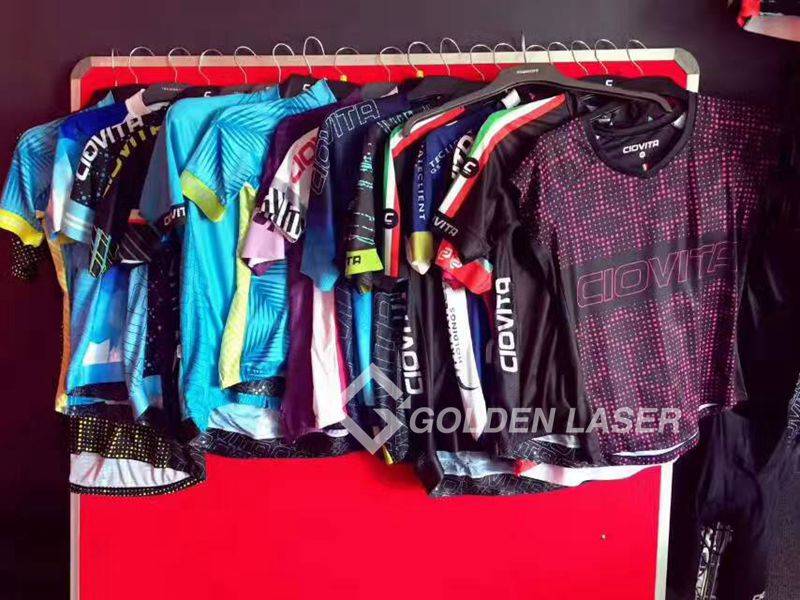 He is engaged in the production and sale of dye-sublimation sportswear in Cape Town, South Africa. Two years ago when we went to visit him, he still rely on manual cutting. We learned that his workshop production technology was backward, manual cutting staff's expenses was very large and inefficient, and artificial electrical cutting even caused employee injury accident. After repeated communication, we have developed a dynamic scanning laser cutting solution for printed sportswear. The laser solution not only enriches the process of sportswear, shortens the production process, reduces the cost of personnel, but also significantly improve the production efficiency. The output has risen from about 12 units per hour to about 38 sets per hour. The efficiency has increased by more than three times. The quality of clothing has also improved dramatically.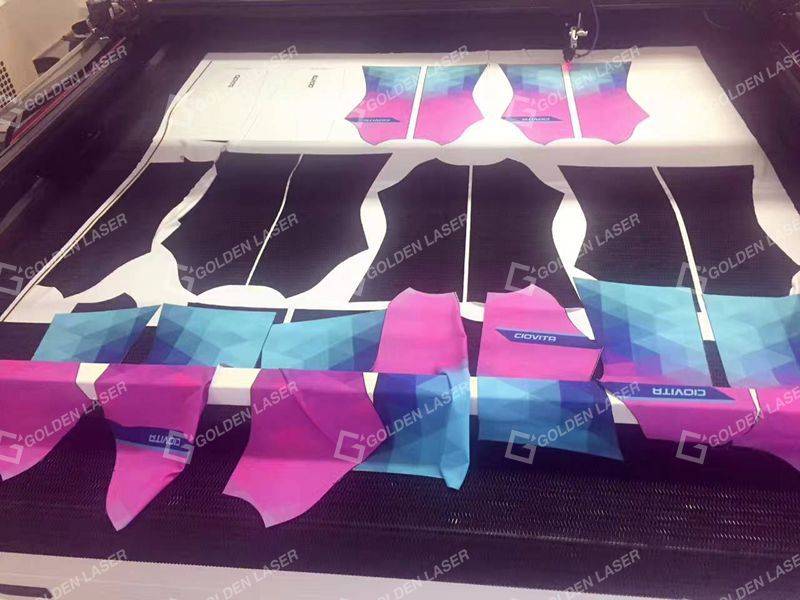 Golden Laser – Vision Laser Cutter for Sublimation Print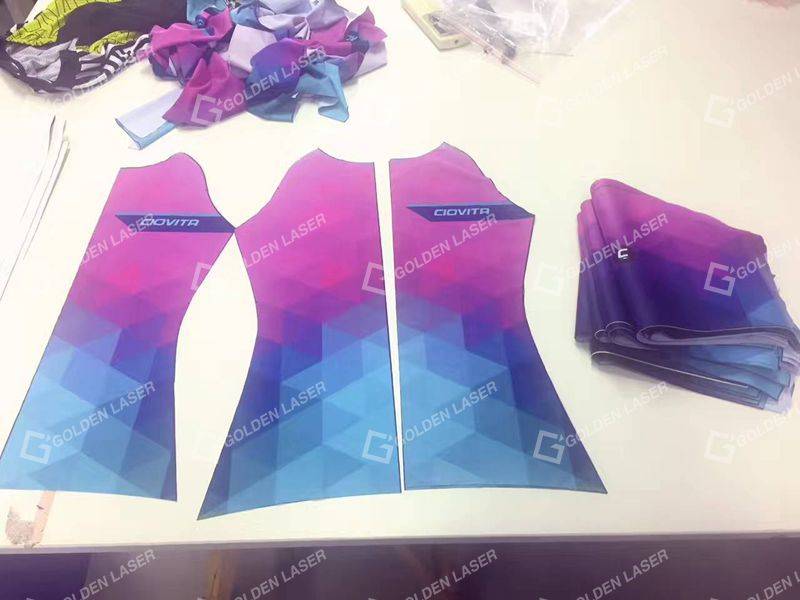 Golden Laser – Vision Laser Cut Sublimation Print for Sportswear Fabrics
GOLDEN LASER – Laser Cut Sublimation Print Panel
ready-made sport jerseys
Similar to such cases are numerous. Anyone can sell products, while the solution is different. GOLDENLASER is no longer simply selling laser equipment, but selling value, which is to create value for customers through solutions. It is really customer-centric, from the customer point of view, to help customers save energy, save effort and save money.
In fact, before the show, our European regional manager Michelle has been in advance in Europe visited more than ten customers. We continuously understand users' demands, try to solve practical problems for customers, and provide effective laser solutions.
"European customers are very much looking forward to our visit. The schedule is full in a week. There are many customers would rather wait until midnight to see us side." Michelle Said, "The customer's understanding of the laser cutting is different. Their ultimate appeal will be to improve efficiency, improve product quality, and reduce costs. But specific to the details and the application of the process is very different. We must be detailed and in-depth mining customer needs, accurate grasp of the pain point of customers in order to make valuable solutions to customers."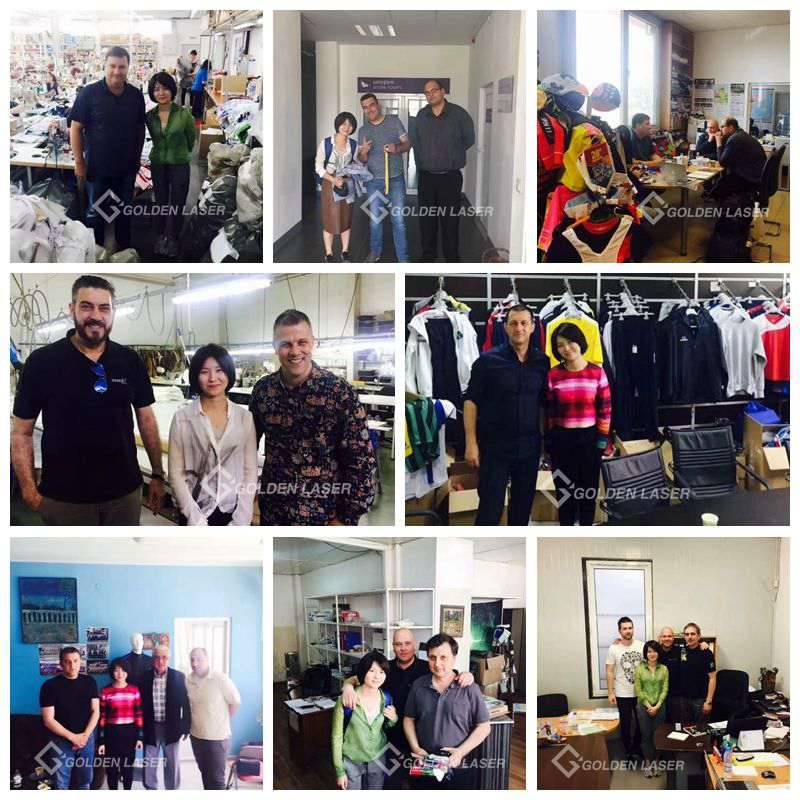 Frankfurt Texprocess continues. The customer's recognition of GOLDENLASER has also strengthened our confidence in providing intelligent, digitized and automated laser processing solutions for traditional industries.
In the communication with our customers, we realize that in the key nodes of traditional industry transformation, many customers need someone to help them connect the function of a single, separate system. Only by providing a full range of solutions to meet the individual needs to help customers solve the R & D, production process encountered in a variety of process problems, and even sales front-end, production management issues, in order to form a closer cooperation with the user, Beyond the simple relationship between suppliers and manufacturing companies to enhance the availability of products and services, and ultimately provide customers with integrated solutions for customers to bring more value.
Go beyond laser machines, win in laser solutions. We're going to do it all the time.