Laser Cutting Engraving Marking of Leather with Golden Laser Machine
LASER CUTTING, ENGRAVING, MARKING AND PUNCHING OF LEATHER
Golden Laser develops special CO2 laser cutter and Galvo laser machine for leather and provides comprehensive laser solutions for leather and shoe industry
Laser Cutting Application – Leather Cutting Engraving and Marking
Engraving / Detailed Marking / Interior Detail Cutting / Exterior Profile Cutting

Leather Laser Cutting and Engraving Advantage
● Contactless cutting with laser technology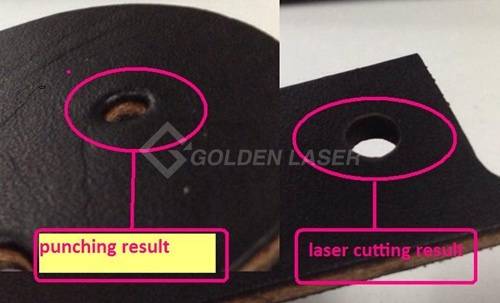 ● Precise and very filigreed cuts
● No leather deformation by stress-free material supply
● Clear cutting edges without fraying
● Melding of cutting edges regarding synthetic leather, thus no works before and after material processing
● No tool wear by contactless laser processing
● Constant cutting quality
By using mechanic tools (knife-cutter), the cutting of resistant, tough leather causes heavy wear. As a result, the cutting quality decreases from time to time. As the laser beam cuts without having contact with the material, it will still remain unchanged 'keen'.  Laser engravings produce some kind of embossing and enable fascinating haptic effects.

Laser Cutting Engraving Leather
With the Golden Laser machine you can finish leather products with  designs and logos. It is suitable both for laser engraving and laser cutting of leather. Common applications are footwear, bags, luggage, apparel, labels, wallets and purses.
Which leather types can be cut with the Golden Laser?
The Golden Laser machine is excellently suitable to cut and engrave on natural leather, suede and rough leather. It works equally well when engraving and cutting leatherette or synthetic leather and suede leather or microfiber materials.
Exact, sealed cutting edges
When laser cutting leather extremely precise cutting edges can be achieved with the Golden Laser machine. The engraved leather is not frayed by laser processing. In addition, the cutting edges are sealed by the effect of the heat. This saves time especially when post processing leatherette.
Leather engraving without tool wear
The toughness of leather can cause heavy wear on mechanical tools (e.g. on the knives of cutting plotters). Laser etching leather, however, is a non-contact process. There is no material wear on the tool and the engravings remain consistently accurate with the laser.
Laser Cutting Engraving for High-end Custom Leather Products
---
Post time: Jan-16-2018