Genuine Leather Laser Cutting Machine
Features
Collocation
Tech Specs
Models
Material & Application
Solution
Request
Genuine Leather Laser Cutting Machine with Projector and Camera
Advantages

•  No required mould, laser processing is flexible and convenient. After setup the pattern, laser can start to process.
•  Smooth cutting edges. No mechanical stress, no deformation. Laser processing can save the cost of mold production and preparation time.
•  Good cutting quality. Cutting precision can reach to 0.1mm. Without any graphic restrictions.
•  It is a complete and practical set of genuine leather laser cutting system, with pattern digitizing, recognition system and nesting software. High degree of automation, improving efficiency and saving material.
Machine Features
• Especially for genuine leather cutting. Suitable for all kinds of genuine leather and hides products cutting processing industries.
• Laser cutting with smooth and precise cutting edge, high quality, no distortion.
• It adopts high-precision digital system that can accurately read the contour of leather and avoid poor area and do rapid automatic nesting on sample pieces (users can also use manually nesting).
Simplify the complex processing of genuine leather cutting to four steps:
     1. Inspection  2. Reading  3. Nesting  4. Cutting

• During the time of nesting, it can also project the same pieces, display sample cutting position on the leather and improve the utilization of leather.
• Equipped with large area recognition system, projection system and auto-nesting software.
• It is applicable to car seat cover, sofa  and other large-size leather goods precision cutting.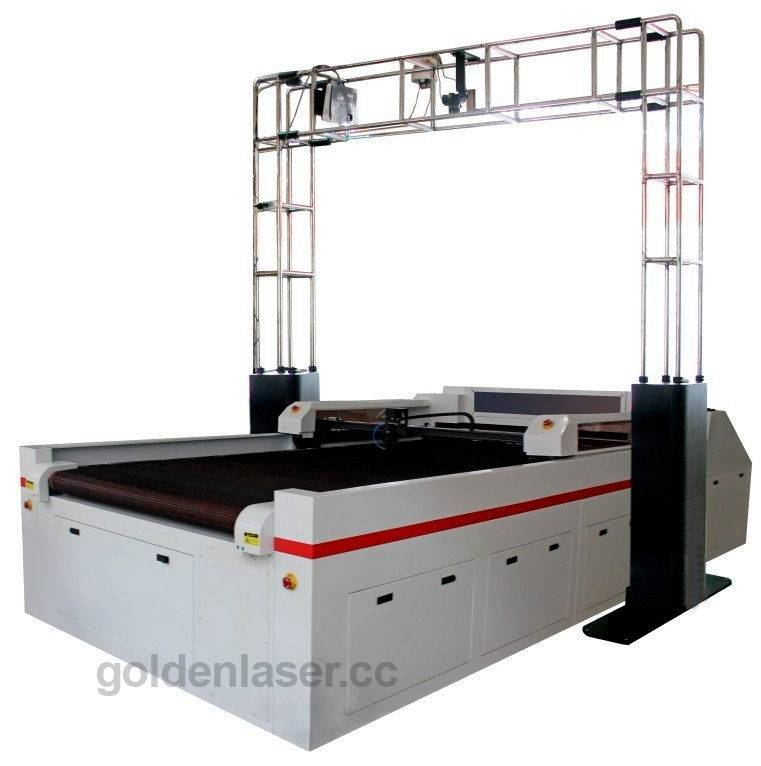 CO2 Flatbed Laser Cutting Machine Optional Configuration
| | |
| --- | --- |
| Auto Feeding System (multiply types) | CO2 RF metal laser tube (different powers optional) |
| Large Area Recognition System | Projection System |
| Red light positioning | Smart nesting |
| Pattern digitizing steel frame | Recognition, Pattern digitizing steel frame |
Genuine Leather Laser Cutting Machine with Camera CJG-160250LD

Laser types

DC glass laser tube

Laser power

130W

Cutting area

1600×2500mm

Working table

Conveyor working table

Working speed

Adjustable

Repeating positioning accuracy

± 0.1mm

Motion system

Offline mode step motor system,

5 inch LCD screen with high precision integrated CNC system

Cooling system

Compulsory water circulation chilling system

Power supply

AC220V±5%    50/60Hz

Format supported

AI, BMP, PLT, DXF, DST etc.

Standard collocation

1 set of 550W top exhaust fan,

2 sets of 1100W bottom exhaust fans,

large area auto-recognition system, smart projection system

Optional collocation

CO2 RF metal laser tube(150W),

CO2 DC glass laser tube(80W/100W),

Constant temperature water chiller,

Auto-feeding device, red light positioning

*** Note: As products are constantly updated, please contact us for latest specifications. ***
GOLDEN LASER Uranus Series CO2 Laser Cutting Bed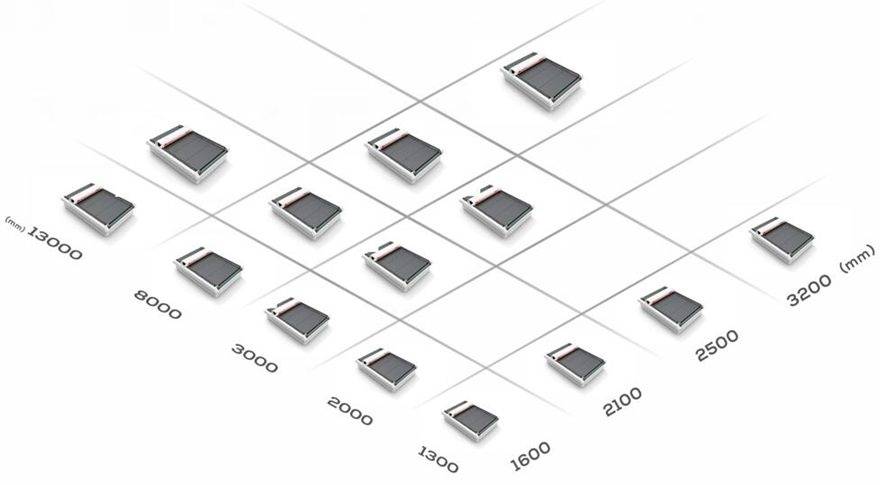 WORKING AREAS CAN BE CUSTOMIZED
→ CJG-250300LD Textile Fabric Laser Cutting Bed
→ CJGS-160300LD Garment Fabrics High-Speed Laser Cutting Bed
→ CJGV-160200LD Vision Laser Cutting Machine
→ CJGV-160130LD Vision Laser Cutting Machine
→ CJG-160250LD Genuine Leather Laser Cutting Machine
→ CJG-250400LD Industrial Fabrics Laser Cutting Bed
→ CJG-210300LD Carpet Laser Cutting Bed
→ CJG-180300LD Automotive Interior Laser Cutting Bed
→ CJG-320800LD Large Format Laser Cutting Bed for Outdoor Products
Applicable Materials and Industries
Suitable for genuine leather car seat cover, sofa, shoes, bags and suitable, leather goods industries.
Large format and high precision cutting.
Suitable for cutting various skin hides leather, genuine leather, soft leather, natural leather for automotive seat cover and automobile interior decoration industry, sofa upholstery, leather goods, bags, gloves, and suitcases, shoes, boots, leather clothes, leather crafts and fur and other industries.

Laser Solutions for Genuine Leather Cutting
CAD software (standalone version) can be configured to provide design and grading function. It also has pattern digitizing function. Supporting software can avoid the defects of genuine leather, then automatic or manual nesting and cutting can be done.
Support for Lectra, Gerber and other 20 kinds of file formats. It is convenient for grading and nesting.
With 15 megapixel high-precision ultra-wide-angle camera, it can accurately read the external contour of cutting pieces within 1500mmX2000mm, then do pattern digitizing automatically.
After scanning and grading, the pattern can be nested and cut. GOLDEN LASER self-development smart marker making software not only can finish ZERO-gap cutting on material, but also take good use of surplus workpiece for smaller design cutting. It can utilize material to the maximum. Compared with traditional nesting method, material utilization ratio can be increased by 12%.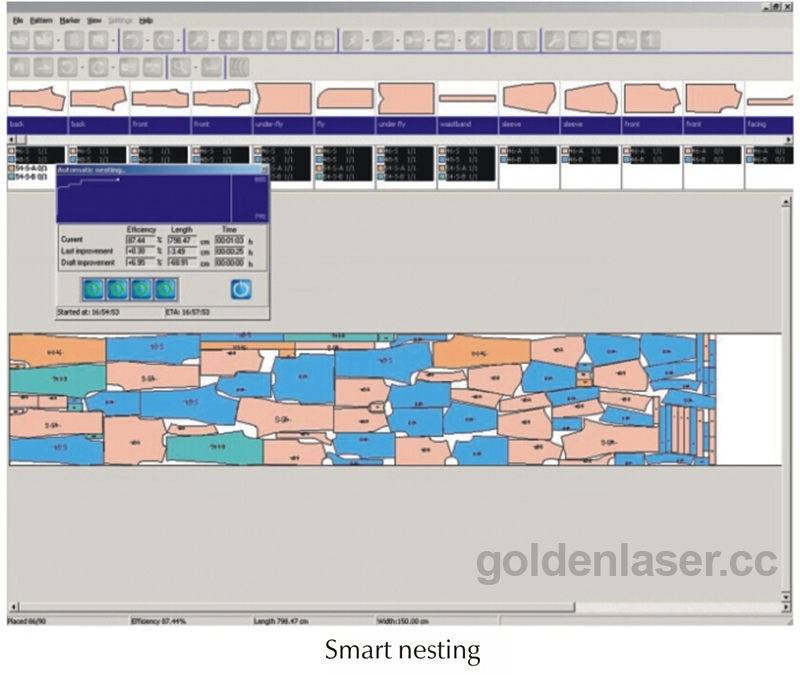 The shape of genuine leather is irregular, also there are spots and defective areas on genuine leather. In order to ensure cutting pieces to avoid those areas, we especially use Projector to assist nesting. First make the projection of actual cutting size of nested graphics onto leather surface. Then, according to the location of defective areas and leather shape, adjust the location of projected graphic. It effectively ensures the quality and integrity of cutting pieces, and cost savings.