vision laser cutting large format banner

vision laser cutting printed soft signage

vision laser cutting banner

laser cutting advertising banner
Laser Cut Printed Advertising Flag for "Machines Replace Human" Change!
As an excellent exhibition display equipment, advertising flags are being used more and more in various commercial advertising activities. And types of banners are also varied, water injection flags, beach flag, corporate flag, antique flag, bunting, string flag, feather flag, gift flag, hanging flag and so on.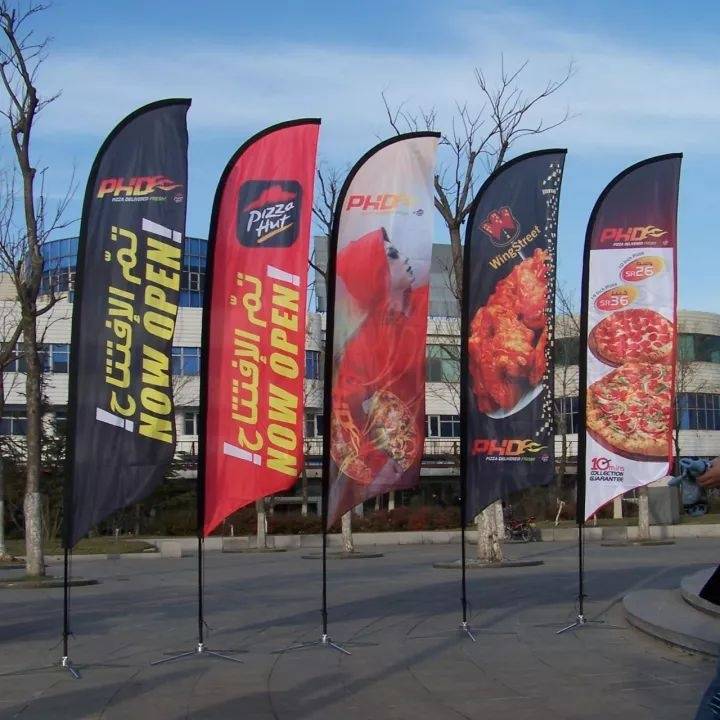 As commercialization demands become more personalized, customized types of advertising flags have also increased. Advanced thermal transfer and digital printing technology in the custom banner ads prevail, but do not match is still a very primitive cutting.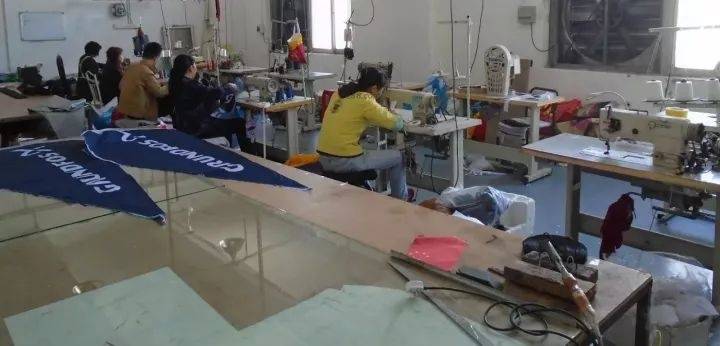 Traditional cutting method
A roll of cloth takes 3-4 people to cut three times
The first cut - 3 to 4 people put the printed banner on the big table. Use scissors to cut the material for the first time.
The second cut - Align the cutting line with a ruler or iron frame and rough cut with a hot knife
The third cut -Fine cut, before sewing
But these are only applicable to the rules of the square, rectangular flag; How to process shaped flag?
They use scissors, yes, no mistake,
It is used for thousands of years of scissors!
However, these cumbersome manual processes, in fact, can be completed with a full set of machine, that is, GOLDEN LASER – Vision Laser Cutting Machine !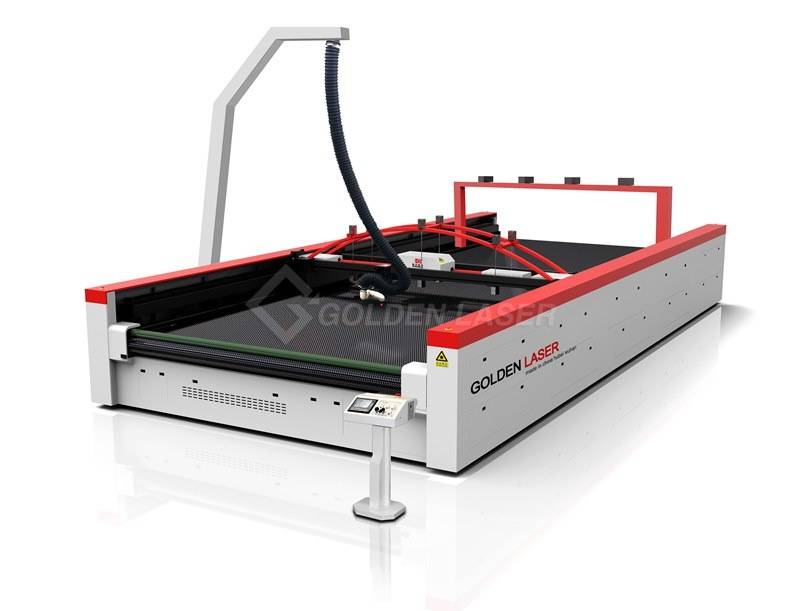 Professional alignment cutting for printing materials
You can cut the regular patterns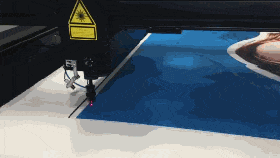 You can also cut irregular shaped patterns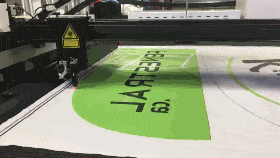 Accuracy within 0.5 mm, one time cutting into shape!
The only thing that workers need to do is put the printed fabric into rolls feeder and lay it flat on the machine, over!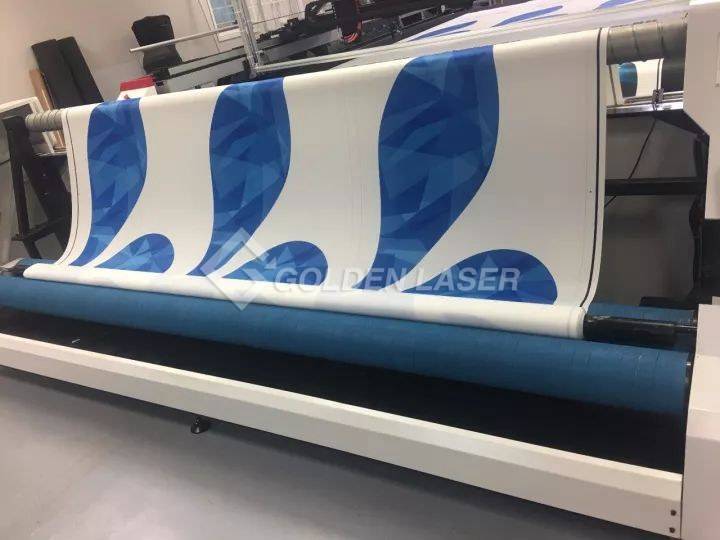 Give the rest of jobs to the vision laser cutting system, fully automatic operation:
The camera automatically scan printed graphics,
Automatically extract the contour,
Automatically send information to the computer and laser cutter,
Laser machine automatic precise cutting,
Automatic continuous feeding and unloading,
Repeat the above workflow automatically!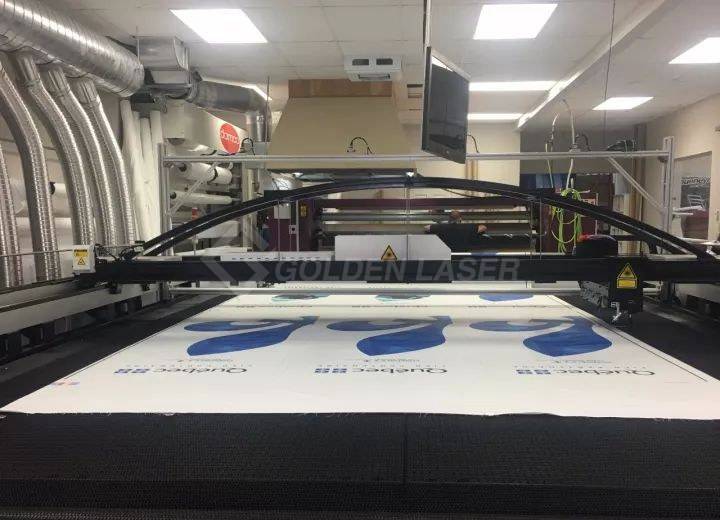 There are two smart scan modes to choose from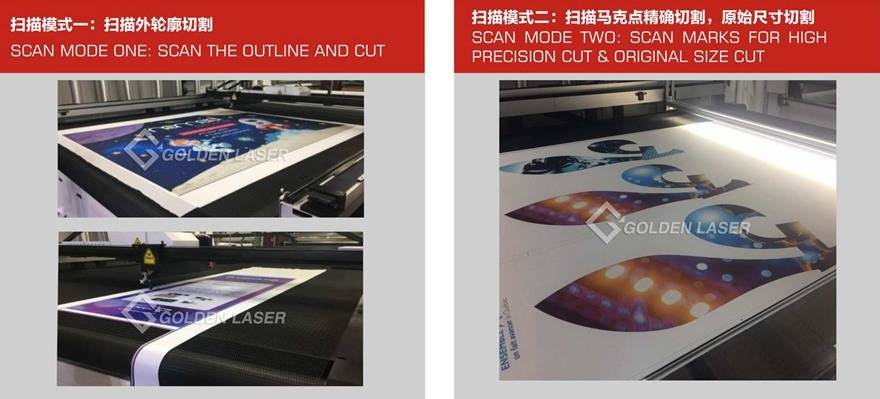 Our users tell us that in the traditional way to handle a roll of cloth, you need at least four people, at least need scissors rough cutting, hot knife alignment cutting and fine cut with scissors before sewing. Finally, because the advertising flag is polyester pongee, warp knitting fabric, satin fabric or mesh fabric, have to deal with the edge. It took 8 hours.
The vision laser cutting machine only need 1 person and 1 hour can be completed. A cut can be accurate to within 0.5mm, laser thermal processing smooth and automatic edge sealed.
Cost accounting
Comparison

Labor Cost

Cutting accuracy

Time

Cutting steps

Cutting edge

Manually cutting

3~4 people

Low

4 people

8 hours

3 steps

Fraying

Vision laser cutting

1 person

High

1 person

1 hours

1 step

Smooth
"Machines replace human", the trend of the times
Golden Laser based on "digital laser processing solutions"
Reduce production and labor for traditional enterprises
Optimize process technology
Improve labor productivity and product quality rate.
---
Post time: Apr-22-2018
---