Vision Laser Cutting Machine for Sublimation Fabric
Features
Collocation
Tech Specs
Models
Material & Application
Solution
Request
Laser Cutting Machine
with Intelligent High-speed Precise Scanning Vision System
Model No.: CJGV-160200LD+100AF
How Vision Laser System Works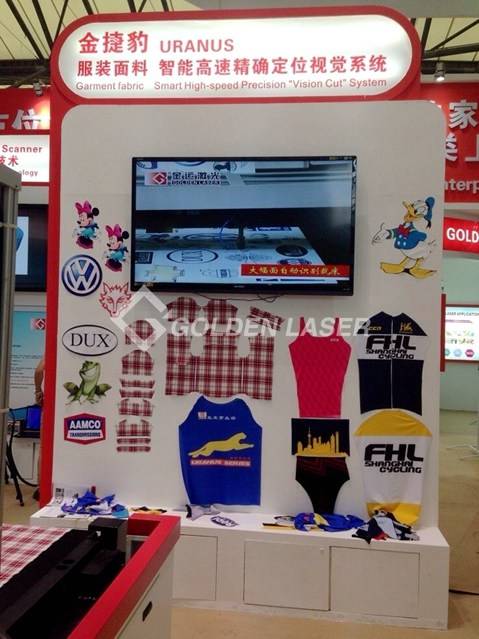 žžž
› Cameras scan the fabric during the conveyor advancing, detect and recognize printed patterns contour or stripes / plaids or pick up printed registration marks, and send the cutting information to the laser cutting machine. This process is repeating after the machine finishes to cut the current cutting window. The entire process is completely automated.
ž› This system can be adapted on laser cutters of any dimensions; the only factor which depends on cutter width is the number of cameras.
ž› Depending of required cutting precision the number of cameras will be increased / decreased. For most of the practical applications, 90cm of cutter width requires 1 camera.
Vision Laser System Description
The Vision System is a software / hardware solution designed to detect / adjust the shape and position of the patterns according to the fabrics based on optical recognition. The system is integrated with cutting machines and offers a flexible solution for a wide range of applications (sportswear, advertising, banners, apparel, automotive, aviation, upholstery, etc.).
Software Function
1. On the fly (Automatic contour extraction) 3. Stripes / Plaids matching (Patterned fabric marker matching) 2. Registration Marks alignment 4. Cut Here (irregular pattern marker making) Format supported Gerber (*.zip *. tmp) Lectra (*.plx, *.iba, *.vet), Assyst (LayS, *.zip), Investronic (*.exp), *.dxf, *.jpg, *.bmp, *.png, HPGL (*.plt), ISO-Cut
Advantages
• Detection of printed fabrics directly from rolls, without any preparation. High precision detection. • Fully automatic process, without manual intervention. • Large format flying recognition. Less than 5 seconds for scanning an entire cutting window. • Good at cutting complex graphics. For the fine and detailed graphics, the software can extract the original graphics according to the position of registration marks and then cutting. • Good at cutting stretch fabrics. Cutting edge is clean, soft, smooth, automatic sealing.
Vision Laser Cutting Machine Features
• Full steel welding structure. High reliability.
• Half flying optical path. High cutting speed, high efficiency.
• Top brand motion guide rail and belt. High performance.
• Equipped with high quality camera, LED lamp, control cabinet and encoder.
• Vacuum conveyor working platform ensures cutting material flat adsorption
• Top and bottom exhausting systems ——————————————————————————————————————————————————————————————————————————————————————–
Vision Laser Cutting Machine Demo & Photo
Vision Laser Cutting Machines in Golden Laser Factory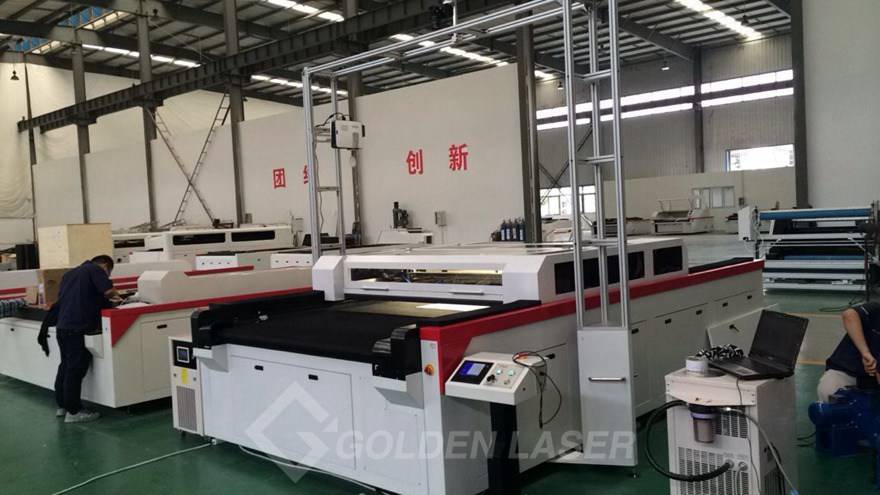 CO2 Flatbed Laser Cutting Machine Optional Configuration
| | |
| --- | --- |
| Auto Feeding System (multiply types) | CO2 RF metal laser tube (different powers optional) |
| Large Area Recognition System | Projection System |
| Red light positioning | Smart nesting |
| Pattern digitizing steel frame | Recognition, Pattern digitizing steel frame |
Model No.

CJGV-160200LD+100AF Vision Laser Cutting Machine

Laser Type

Co2 glass laser

Co2 RF metal laser

Laser Power

150W

150W

Working Area

1600mmX2000mm (62.9" X 78.7")

Working Table

Conveyor working table

Working Speed

0-400 mm/s

Positioning Accuracy

±0.1mm

Motion System

Offline servo motor control system, LCD screen

Cooling System

Constant temperature water chiller

Power Supply

AC220V±5%       50/60Hz

Format Supported

AI, BMP, PLT, DXF, DST, etc.

Standard Collocation

1 sets of top exhaust fan 550W, 2 sets of bottom exhaust fans 1100W, 2 German cameras

Optional Collocation

Automatic feeding system, 150W / 200W Co2 RF laser tube

Floor Space

2500mm*3000mm

Operating Table Height

850mm

Noise

<65 Db

(Excluding exhauster)

Power Supply Requirements

AC220V±5%   50HZ

Total Power

1.5KW

(Excluding exhauster)

Environmental Requirement

Temperature Range: 10—35℃

Humidity Range: 40—85%

the use environment of no inflammable, explosive, strong magnetic, strong earthquake

*** Note: As products are constantly updated, please contact us for latest specifications. ***
Typical Models

Description

Application

CJGV-160200LD+100AF

Vision Laser Cutting Machine

Cutting area:    1600mmX2000mm (62.9″ X 78″)
Scan area:      1600mmX1000mm (62.9″ X 39″)
Laser type:   Glass laser tube or CO2 RF Metal laser tube
Laser power:  130W/150W

printed sublimation fabric, sublimated polyester, large-scale banners, flags, advertising fabrics, stripe matching & plaid matching textile, sofa, upholstery, etc.

CJGV-160130LD+80AF

Vision Laser Cutting Machine

Cutting Area:  1600mmX1300mm (62.9″ X 51″)
Scan Area:    1600mmX800mm (62.9″ X 31″)
Laser Type:   CO2 Glass laser or CO2 RF metal laser
Laser Power:  130W or 150W

sublimation fabric, digital printed textile, sportswear, stripe matching & plaid matching, swimwear, cycling apparel, team uniforms, sports shoes, repetitive visual pattern fashion garment, bags, suitcase, toys, etc.
Applicable Materials and Industries
• Sportswear, sports jerseys, cycling apparel, hockey jersey, team uniform, digital printed textile, sublimation fabric
• Strips & plaids clothing, suits, shirts, dresses
• Fabric with Repetitive Visual Motifs, swimwear
• Arabesquitic luxury bags, suitcase, sofa, upholstery, toy, sports shoes
• Banners, flags, vinyl, polyester and all printed soft signage
<< Read More about Vision Laser Cutting Samples
1. On the fly – large format recognition continuous cutting
This function is for patterned fabric precisely positioning and cutting. For example, through digital printing, various graphics printed on fabric. In the subsequent of positioning and cutting, material information extracted by the high-speed industrial camera (CCD), software smart identification closed outer contour graphics, then automatically generates the cutting path and finish cutting. Without the need for human intervention, it can achieve continuous recognition cutting of the entire roll printed fabrics. I.e. by large format visual recognition system, the software automatically recognize the contour pattern of the garment, and then automatic contour cutting graphics, thus ensuring accurate cutting of the fabric. Advantage of contour detection
No required the original graphics files
Directly detect roll printed fabrics
Automatic without manual intervention
Identification within 5 seconds on the whole cutting area

2. Printed Marks Cutting
This cutting technology is applicable to a variety of patterns and labels precision cutting. Especially suitable for automatic continuous printing clothing contour cutting. Marker point positioning cutting no pattern size or shape restrictions. Its positioning is only associated with two Marker points. After two Marker points to identify the location, entire format graphics can be precisely cut. (Note: arrangement rules must be the same for each format of the graphic. Automatic feeding continuous cutting, to be equipped with feeding system.) Advantage of printed marks detection
High precision
Unlimited for the distance between printed pattern
Unlimited for printing design and background color
Compensation of processing material deformation

3. Strips and Plaids Cutting
CCD camera, which is installed in the rear of the cutting bed, can recognize materials information such as stripes or plaids according to color contrast. The nesting system can perform automatic nesting according to the identified graphical information and cut pieces requirement. And can automatically adjust the pieces angle to avoid stripes or plaids distortion on the feeding process. After nesting, the projector would emit red light to mark the cutting lines on materials for calibration.

4. Square Cutting
If you only need to cut square and rectangle, if you don't have high requirement about cutting precision, you can choose below system. Work flow: small camera detect the printing marks and then laser cut the square/rectangle.