Laser Cutting and Punching of Leather

Laser Cutting Car Mat

Laser Cutting Fabrics of Automotive Car Seat
Laser application for car seat covers, car mats, automotive interior
In the automotive interior (mainly car seat covers, car carpets, airbags, etc.) production areas, especially car cushion production, the main cutting method for computer cutting and manual cutting. As the price of computer cutting bed is very high (the lowest price is more than 1 million Yuan), far more than the general purchasing power of manufacturing enterprises, and difficult to personalized cutting, so more companies are still using manual cutting.
A well-known manufacturer of automotive interior in Wuhan, before the use of laser equipment, has been used hand-cut for car seat cover production. Usually a team has three hand-cut workers and five sewing workers. In this production mode, cutting a set of seat covers an average of 30 minutes, and the material loss, cutting quality is not high, profits have been unable to upgrade. In addition, due to the inability to carry out a quick version and revision, therefore, the company's product structure has been very single, personalized is not strong, it is difficult to open the market. Related to this, enterprise development has been tepid.
After the use of Golden laser cutting machine, the time for a machine to cut a set of seats is reduced to 20 minutes. As the use of intelligent typesetting system, material loss is also greatly reduced, and eliminates the cost of hand-cut labor, so the cost is greatly reduced. Coupled with the application of automatic feeding system, making the production efficiency increasing by one third. While the version of the software embedded, making a version of easy to change version, the product structure has been greatly enriched, new products emerge in an endless stream; In the process, the laser cutting, drilling, engraving and other innovative technology integration which greatly increased the value-added products, and lead the automotive interior processing technology of the new fashion, the rapid rejuvenation of enterprises.
At present, the customer production value and profit margins have been greatly improved. Its car seat cover products have been successfully applied to the Audi, Volkswagen, Peugeot, Citroen and other series models.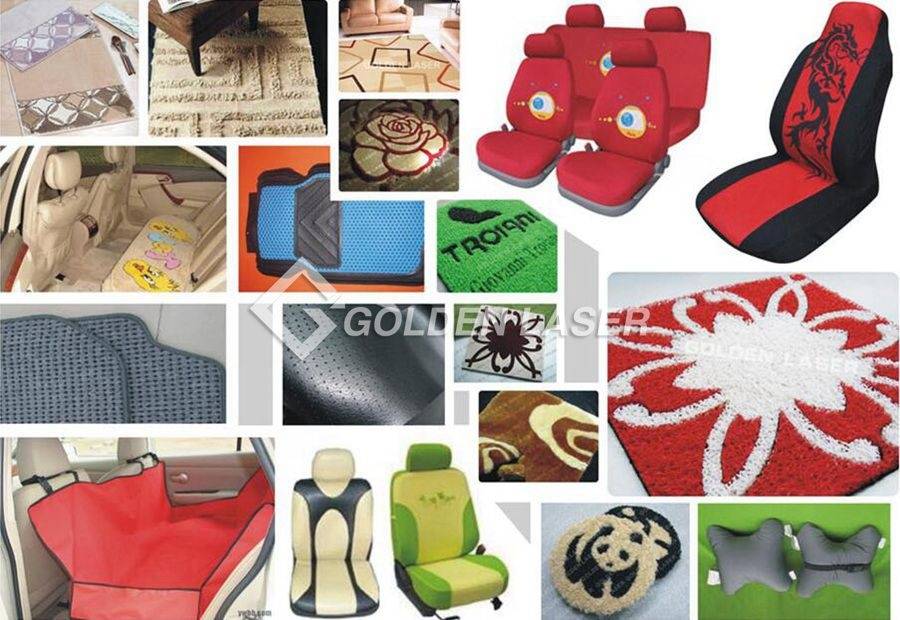 In addition, in the car airbag cutting, car carpet cutting, the Golden Laser series of laser cutting equipment is also with its precision, fast, efficient, high value-added, high performance, low price, low energy consumption and other traditional cutting incomparable advantages of rapid occupied the market, and set off a laser technology in the automotive interior processing industry application of the new trend.
---
Post time: Apr-24-2017