Sublimation Printed Fabric Laser Cutting Machine for Sports Jerseys Apparel
Features
Collocation
Tech Specs
Models
Material & Application
Solution
Request
Sublimation Printed Fabric Laser Cutting Machine
VISION LASER CUTTING SYSTEM –   √ Auto feeding    √ Flying scan    √ High speed    √ Scan ( detecting and recognizing) a sublimated roll of fabric and take into account any shrinkage or distortion that may occur during the sublimation process and accurately cut out any designs.
Why Vision Laser Cutting Printed Fabric? 
● Versatile. Cut a variety of materials, like polyester, cotton, microfiber, polymide, PVC, vinyl, etc.
● High Speed. Laser cutting speed reaches up to 600 mm/s. Automated production process with conveyor and auto-feeding system.
● Precise. High precision, smooth cutting edge, no fraying, no need to rework on cutting edges.
● Clean. Non-contact laser process. No need to glue paper onto textile, avoiding manual pollution during scissors cutting process.
● High flexibility. Cut any kinds of shapes simultaneously.
● Save time, save materials, and save labor cost.
Digital Printing Sublimation Fabric Laser Cutting Solution
● Large format flying recognition. 5 seconds to identify 1.6m x 3m. When conveyor belt feeding, the camera can quickly identify printed fabric, or stripes, plaids fabric in real-time and then the cutting information transmitted to cutting machine. After cutting an entire format, processing will repeat the same process.
● Good at dealing with complex graphics. Specializes in the processing of elastic material. Edge clean, soft, tidy, automatic sealing edge, high accuracy.
● One machine can process 500-800 sets of clothing per day. The whole process without human intervention. With auto feeding system, scanning contour extraction, feeding and cutting finished at one time.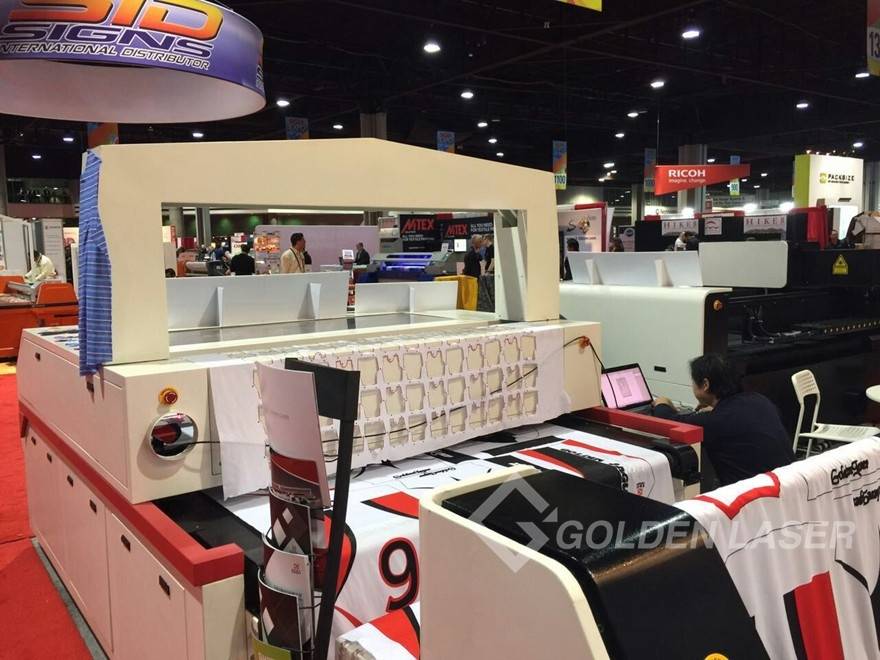 Model No.

CJGV-190130LD Vision Laser Cutter

Laser Type

Co2 glass laser

Co2 RF metal laser

Laser Power

150W

150W

Working Area

1900mmX1300mm (74"×51")

Working Table

Conveyor working table

Working Speed

0-600 mm/s

Positioning Accuracy

±0.1mm

Motion System

Offline servo motor control system, LCD screen

Cooling System

Constant temperature water chiller

Power Supply

AC220V±5%       50/60Hz

Format Supported

AI, BMP, PLT, DXF, DST, etc.

Standard Collocation

1 sets of top exhaust fan 550W, 2 sets of bottom exhaust fans 1100W,

2 German cameras

Optional Collocation

Automatic feeding system

Environmental Requirement

Temperature Range: 10—35℃

Humidity Range: 40—85%

the use environment of no inflammable, explosive, strong magnetic, strong earthquake

*** Note: As products are constantly updated, please contact us for the latest specifications. ***
GOLDEN LASER - Vision Laser Cutting Machines
Model NO.
Working Area
CJGV-160130LD
1600mm×1300mm (63" ×51")
CJGV-160200LD
1600mm×2000mm (63" ×78")
CJGV-180130LD
1800mm×1300mm (70" ×51")
CJGV-190130LD
1900mm×1300mm (74" ×51")
CJGV-320400LD
3200mm×4000mm (126" ×157")
CJGV-300500LD
3000mm×5000mm (118" ×197")
CJGV-320800LD
3200mm×8000mm (126" ×315")
Applicable Industries
→ Printing industry – printed apparel, banners, flags, toys, carpets. etc.
→ Garment industry – top grade clothing, shirts, suits, skirts with stripes / plaids, plaids or repeated patterns
→ Shoes industry – weaving sports shoes, knitting vamp
→ Furniture industry – sofa, pillowcase, tablecloth with aligned stripes & plaids
→ Top grade bags and suitcases – bags, suitcases, wallets with aligned stripes & plaids
Vision Laser CUT Applications
| | | |
| --- | --- | --- |
| Printed sportswear cutting | Swim suit cutting | Stripes & plaids shirt cutting |
Repetitive Visual Motifs Cutting

Fashion Apparel

Handbag

Suitcase
| | |
| --- | --- |
| Shoes industry | Soft toy industry |
| | |
1. On the fly – large format recognition continuous cutting
This function is for patterned fabric precisely positioning and cutting. For example, through digital printing, various graphics printed on fabric. In the subsequent of positioning and cutting, material information extracted by the high-speed industrial camera (CCD), software smart identification closed outer contour graphics, then automatically generates the cutting path and finish cutting. Without the need for human intervention, it can achieve continuous recognition cutting of the entire roll printed fabrics. I.e. by large format visual recognition system, the software automatically recognize the contour pattern of the garment, and then automatic contour cutting graphics, thus ensuring accurate cutting of the fabric. Advantage of contour detection
No required the original graphics files
Directly detect roll printed fabrics
Automatic without manual intervention
Identification within 5 seconds on the whole cutting area

2. Printed Marks Cutting
This cutting technology is applicable to a variety of patterns and labels precision cutting. Especially suitable for automatic continuous printing clothing contour cutting. Marker point positioning cutting no pattern size or shape restrictions. Its positioning is only associated with two Marker points. After two Marker points to identify the location, entire format graphics can be precisely cut. (Note: arrangement rules must be the same for each format of the graphic. Automatic feeding continuous cutting, to be equipped with feeding system.) Advantage of printed marks detection
High precision
Unlimited for the distance between printed pattern
Unlimited for printing design and background color
Compensation of processing material deformation

3. Strips and Plaids Cutting
CCD camera, which is installed in the rear of the cutting bed, can recognize materials information such as stripes or plaids according to color contrast. The nesting system can perform automatic nesting according to the identified graphical information and cut pieces requirement. And can automatically adjust the pieces angle to avoid stripes or plaids distortion on the feeding process. After nesting, the projector would emit red light to mark the cutting lines on materials for calibration.

4. Square Cutting
If you only need to cut square and rectangle, if you don't have high requirement about cutting precision, you can choose below system. Work flow: small camera detect the printing marks and then laser cut the square/rectangle.