High Speed Garment Fabric Laser Cutting Machine
Features
Collocation
Tech Specs
Models
Material & Application
Solution
Request
High Speed Garment Fabric Laser Cutting Machine
CJGS-160300LD
• This laser cutting machine is for medium & small batch and various types of garment production, especially suitable for customized clothing.
• The technology is complete. This laser cutter can be used for cutting all kind of fabrics. Good cutting effect. Smooth and precise cutting edges. No burnt edge or fraying. Excellent cutting quality.
• Double Y-axis structure. Flying laser beam path. Servo motor system, high speed cutting.
• High speed and high precision cutting for varieties of garment fabrics and textile within large format of 1600X3000mm or 2100X3000mm. (Cutting speed can reach 1200mm/s)
• Conveyor working table with automatic feeding system (optional), realize continuous material feeding and cutting for automatic production.
• This cutting system can do extra-long nesting and full format continuous auto-feeding and cutting on a single pattern that exceeds the cutting area of the machine.
• The unique manual and automatic interactive layout software functions, improving material utilization to the extreme. It also has pattern making, photo digitizing, and grading functions, convenient and practical.
• This laser cutting machine can be equipped with large format auto-recognition and projector system for personalized garment precise and smart cutting.
GOLDEN LASER Typical Customer - SAINT ANGELO Garment Co., LTD.
CO2 Flatbed Laser Cutting Machine Optional Configuration
| | |
| --- | --- |
| Auto Feeding System (multiply types) | CO2 RF metal laser tube (different powers optional) |
| Large Area Recognition System | Projection System |
| Red light positioning | Smart nesting |
| Pattern digitizing steel frame | Recognition, Pattern digitizing steel frame |
Model No.

CJGS-160300LD

CJGS-210300LD

Working Area

1600mmX3000mm (63"X118")

2100mmX3000mm (82.6"X118")

Laser Source

CO2 glass laser 130Watt or CO2 RF laser 150Watt

Working Table

Conveyor working table

Processing Speed

Adjustable

Positioning Accuracy

±0.1mm

Motion System

Offline mode servo motor motion system, 5" LCD screen CNC system

Cooling System

Constant temperature water chiller

Power Supply

AC220V±5%  0/60Hz

Format Supported

AI, BMP, PLT, DXF, DST, etc.

Standard Collocation

1 set of 550W top exhaust fan, 2 sets of 1100W bottom exhaust fans, air-blowing mini air compressor

Optional Collocation

auto-feeding system, large area recognition system, projection system, smart nesting software, pattern copying system

*** Note: As products are constantly updated, please contact us for latest specifications. ***
GOLDEN LASER Uranus Series Flatbed CO2 Laser Cutting Machine
→ CJGS-160300LD Garment Fabrics High-Speed Laser Cutting Bed
→ CJGV-160200LD Vision Laser Cutting Machine for Sublimation Printed Fabrics
→ CJGV-160130LD Vision Laser Cutting Machine for Sportswear / Cycling Jerseys
→ CJG-160250LD Genuine Leather Laser Cutting Machine
→ CJG-250300LD Textile Fabric Laser Cutting Bed
→ CJG-250400LD Industrial Fabrics Laser Cutting Bed
→ CJG-320800LD Large Format Laser Cutting Bed for Outdoor Products
→ CJG-210300LD Carpet Laser Cutting Bed
→ CJG-180300LD Automotive Interior Laser Cutting Bed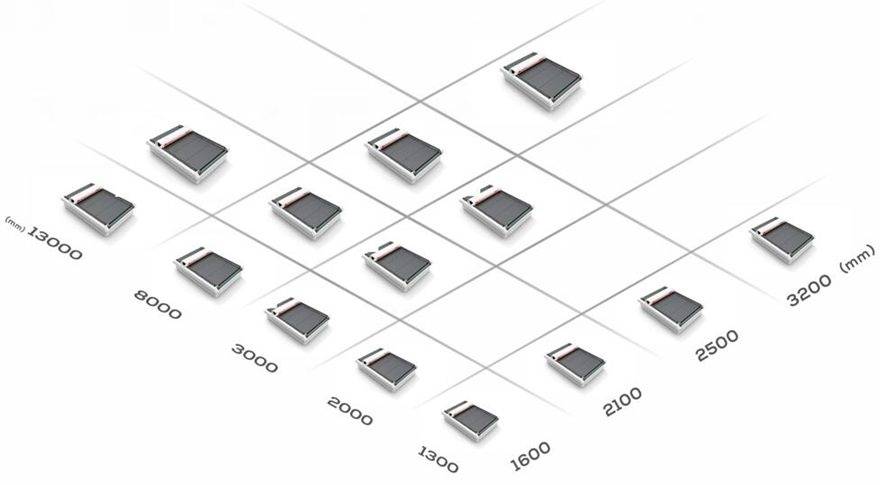 WORKING AREAS CAN BE CUSTOMIZED
Applicable Materials and Industries
LASER CUT TEXTILES AND FABRIC INCLUDES AND NOT LIMITED TO
Polyester, Cotton, Silk, Nylon, Lycra, Leather and Leatherette, Faux Fur, Fleece, various Mesh fabrics, Ripstop materials, Ultrasuede and other Fibers, Neoprene, Felt Natural and Felt Synthetic, Suede Leather, Rubber and rubberised textiles, Tyvek…
♦ Suitable for cutting garment pattern and tiny details on garment accessories, such as delicate and complex hollowing fabric pattern.
♦ Applicable to flexible fabric textile, apparel garment industry.
Laser Cutting Application Sample Photos
→ Professional automatic pattern copying and nesting software help you simplify the complex clothing process to four steps.
You only need four steps to finish clothes from roll fabrics
1. Photo Digitizer
Capture the image, manage and edit, then save the pattern.
2. Pattern Designer
Simplify design, digitize, grade, verify your perfect design.
3. Auto Marker
Boost nesting speed up to five times. Maximize material utilization.
4. Laser Cutting
Perforating, thin strips, hollowing pattern, engraving design and over length nesting & cutting… Our laser machine can perfectly handle any details.
Laser Cutting and Traditional Tools Cutting Comparison
Advantage of the laser cutting of fabric
 Laser Cutting and Manual Cutting Comparison
<< Read More about Garment Laser Cutting  Solution