CO2 Laser Cutter for Filter Cloth / Industrial Filtration Fabrics
Features
Collocation
Tech Specs
Models
Material & Application
Solution
Laser Cutting System for Filter Cloth Production
→ JMC SERIES – High Precision, Fast, Highly Automated
Model No.: JMC-230230LD / 300300LD
Four Reasons to Choose GOLDENLASER JMC SERIES Laser Cutter
1. Precision tension feeding
No tension feeder will easy to distort the variant in the feeding process, resulting the ordinary correction function multiplier; Tension feeder in a comprehensive fixed on both sides of the material at the same time, with automatically pull the cloth delivery by roller, all process with tension, it will be perfect correction and feeding precision.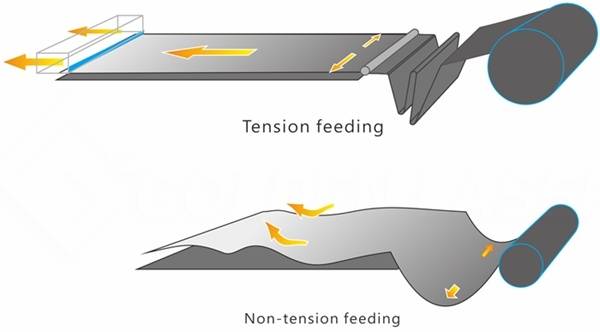 2. High-speed cutting
Rack and pinion motion system equipped with high-power laser, reach to 1200 mm/s cutting speed, 8000 mm/s2 acceleration speed.
3. Automatic sorting system
Fully automatic sorting system. Make the material feeding, cutting, sorting at one time
4. Customizing the size of the high-precision laser cutting bed
2300mm×2300mm (90.5 inch×90.5 inch), 2500mm×3000mm(98.4 inch×118 inch), 3000mm×3000mm (118 inch×118 inch), Or optional

GOLDEN LASER – JMC SERIES CO2 Laser Cutting Machine Features
1. High speed double gear and rack driving system
2. Slim laser beam. Size up to 0.2mm~0.3mm
3. Capable of cutting any complex design
4. Continuous cutting with overlength nesting
5. Equipped with feeder, full automation in the whole process. One machine only needs one person to operate
6. Automatic nesting and automatic extraction of contour are optional
7. Laser machining requires only electricity, no auxiliary gas. Low operating and maintenance costs
Main Components and Parts
| | | |
| --- | --- | --- |
| Article Name | Qty | Origin |
| Laser tube | 1 set | Rofin (Germany) / Coherent (USA) / Synrad (USA) |
| Focus lens | 1 pc | II IV USA |
| Servo motor and driver | 4 sets | YASKAWA (Japan) |
| Rack and pinion | 1 set | Atlanta |
| Dynamic focus laser head | 1 set | Raytools |
| Gear reducer | 3 sets | Alpha |
| Control system | 1 set | Golden Laser |
| Liner guide | 1 set | Rexroth |
| Automatic lubricating system | 1 set | Golden Laser |
| Water chiller | 1 set | Golden Laser |
Main Technical Parameter
Laser type
Hermetic and detached CO2 RF laser tube
Laser wavelength
9.3~10.6μm
Laser power
150W / 300W / 600W
Cutting Area
L 2000mm~8000mm, W 1300mm~3200mm
Motion system
GOLDENLASER Cut software, YASKAWA Servo motor, YYC high precision rack and pinion, ABBA linear guide transmitting system
Cutting table
Absorbing conveyor working table
Lubrication system
Automatic lubrication system
Fume and dust extraction system
Specialized connection pipe with N centrifugal blowers (standard allocation)
Cooling system
Processional original water chiller system
Laser head
Processional CO2 laser cutting head
Control
Offline controlling system
Repeat positioning accuracy
±0.03mm
Positioning accuracy
±0.05mm
Min. kerf
0.5~0.05mm (depending on material)
Maximum Simulation X,Y Axis Speed (Idle speed)
80m/min
Maximum Acceleration X,Y Axis Speed
12G
Total power
≤25KW
Format supported
PLT, DXF, AI, DST, BMP
Power supply requirement
AC380V±5% 50/60Hz 3Phase
Certification
ROHS, CE, FDA
Optional collocation
Auto-feeding system, Red light poisoning, Marker pen, 3D Galvo, Double heads

*** 

Note: As products are constantly updated, please contact us for latest specifications. 

***
JMC SERIES LASER CUTTING MACHINE RECOMMENDED MODELS
→ JMC-230230LD. Working Area 2300mmX2300mm (90.5 inch×90.5 inch) Laser Power: 150W / 275W / 600W CO2 RF Laser
→ JMC-250300LD. Working Area 2500mm×3000mm (98.4 inch×118 inch) Laser Power: 150W / 275W / 600W CO2 RF Laser
→ JMC-300300LD. Working Area 3000mmX3000mm (118 inch×118 inch) Laser Power: 150W / 275W / 600W CO2 RF Laser
… …

Industry Introduction
Filtration as an important environmental and safety control process, from industrial gas-solid separation, gas-liquid separation, solid-liquid separation, solid-solid separation, to daily household appliances in the air purification and water purification, filtration has been increasingly widely applied to multiple areas. Specific applications such as power plants, steel mills, cement plants and other emissions, textile and garment industry, air filtration, sewage treatment, chemical industry filtration crystallization, the automotive industry air, oil filter and home air conditioning, vacuum cleaner and so on.
The main filter materials are fibrous materials, woven fabrics and metal materials, especially the most widely used fiber materials, mainly cotton, wool, linen, silk, viscose fiber, polypropylene, nylon, polyester, acrylic, nitrile, such as synthetic fibers, as well as glass fibers, ceramic fibers, metal fibers and so on.
Applications are constantly expanding and filtering materials are also update, the product from the dust cloth, dust bags, filters filter barrels, filter cotton, to filter.
LASER CUTING / KNIFE CUTTING / PUNCH PROCESSING COMPARISON
LASER CUTING

KNIFE CUTTING

PUNCH

CUTTING EDGE QUALITY

SMOOTH

FRAYED

FRAYED

CUT QUALITY IN THE CYCLE

PRECISE

DEFORMATION

DEFORMATION

FINE DETAILS / RADIUS-FREE INNER CONTOURS

YES

CONDITIONAL

CONDITIONAL

CUT EDGE SEALING

YES

NO

NO

FLEXIBILITY / INDIVIDUALITY

HIGH

HIGH

LIMITED

LABELING / ENGRAVING

YES

NO

NO

MATERIAL DISTORTION WHEN CUTTING

NO

(Due to non-contact)

YES

YES
LASER PROCESSING FLOW
3 STEPS | 1 PERSON OPERATION